Copper wire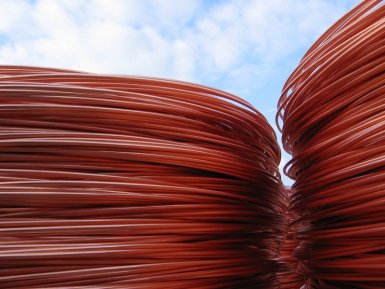 Dignity
Copper wire has a high ductility, heat and electrical conductivity. It is relatively cheap, very high-tech: easy to cut, bend, lend themselves to any kind of soldering, welding are available to hire, drawing. It is resistant to the action of the soil, atmospheric moisture and temperature changes from +250°C to -200°C. After the recovery of the commonly used secondary. Easy ontiretse, has aesthetic appearance, characterized by a long service life and virtually harmless. All these qualities make it extremely beneficial to use.
Disadvantages
The relatively low strength when compared with steel rental.
Wire M1
Mark «M1» is made soft or hard. Each of them has its advantages, scope. The marking indicates the purity of the alloys. The wire M1 is of circular cross-section of primary copper of high quality. The impurity content is minimal, which improves its operational characteristics. Due to the annealing increases the ductility and machinability by cutting, and a sufficiently high hardness gives cold deformation. In naming the brand «M1» or «M1p», for the electrical needs to be tested for conductivity, is added the letter «E».
Diameter of copper wire mm
Unit of products
The price of copper wire
of copper wire hard and soft
0,4 ÷ 5
kg
negotiable, according to agreement
of copper wire of the type «MM»
0,5 ÷ 5
kg
negotiable, according to agreement
of copper wire of the type «MT»
0,5 ÷ 5
kg
negotiable, according to agreement
Manufacturer
Production is continuous casting and rolling mill of alloy types of «M1» or «M2» with the contents of copper in them, respectively 99,9% and 99.7%. The parameters of the chemical composition of normalizes GOST 859/2001. The process of sampling for the control of the composition is carried out according to GOST 24231/80. Manufacture of copper wire for rivets is carried out according to specifications 48−21−456/2006, and for the manufacture of low-temperature thermocouples according to GOST 22666/77; for round electrical equipment — according to TU 16.705.492/2005. The whole range of long products has a normal production, the net surface with no colors of tint with the usual quality finish. The resistivity (in Ahmm2/m) at 20 degrees above zero must not exceed the following values:
— for grades «MM» — no more 0,01724;
— for grades «MT», Ø to 2.44 mm — not more than 0,01780;
for «MT», Ø > of 2.44 mm — not more than 0,01770.
When plating copper wires of the cable uses a Nickel. The resulting wire strut to action extremely high and low temperatures, oxidation and corrosion. Can withstand t° to 750 °C. From it produces high-quality stranded cable for aviation, space, telecommunications industry, military-industrial complex. It serves in the production of the fuse and output the spark plugs. Each year more than ten thousand metric tons of copper wires planiruetsya silver or Nickel.
Application
Construction, electricity, engineering, light and printing industry. Copper wire used in the manufacture of cable, contact wires, decorative items, rivets, low-temperature thermocouples. Used in textiles, Shoe industry, for example, in the production of small copper nails and pins, accessories. Indispensable in telecommunication networks, engineering, shipbuilding. Is in the production of transformer, motor, spark plugs, fuses. High plasticity, easy installation greatly simplify the solution of electrical problems. In the manufacture of electrical wires it is more beneficial, because stronger than aluminum, has a lower resistivity, that allows the use of copper wire thinner and lighter for the same amperage and voltage.
Buy at best price
In stock LLC «AVEK global» unlimited range of products from non-ferrous metals at the best prices. We offer the choice will satisfy any customer. Buy any kinds of rolled copper can, using the Internet-the company website or by contacting our office. The quality of the products is guaranteed by strict observance of technological norms of production. The timing of orders is minimal. Packaging, transport, storing and temporary corrosion protection coating produced in accordance with GOST 9.510/93. The price level depends on the order quantity and other conditions of supply. For wholesale orders flexible system of discounts.
Termoelektrodny cold-drawn wire (GOST 22666/77)
Section of wire
Wire thickness
The width of the wire
Brand of wire
Chem.the composition of the wire
UD.resistance wire
Rectangular
0,5 ÷ 12,5 mm
2 ÷ 35 mm.
not less than «M1»
According To GOST 859/78
less 0,01724*106ohm*m (20°C)