Stainless steel hexagon bar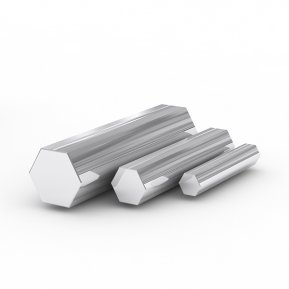 General characteristics
Hexagon stainless steel is prefabricated rolled steel whose cross-section forms a geometric shape with six identical faces. Made from heat-resistant steel, corrosion-resistant. Thanks to innovative technologies, the opportunity to achieve the highest durability, product strength, ability to withstand prolonged stress, exposure to aggressive gases, liquids and temperature changes. Exceptional strength characteristics allow the use of the hexagon in the production of component parts for freight, passenger transport, in the manufacture of the fastening fittings (bolts, nuts). It is difficult to imagine without it the food, chemical and machine-building industry. It has several types of surface: mirror, polished and matte. Each of them is applied in their field. For example, the mirror surface effectively looks in interior design, creating decorative metal designs.
Use
Hexagon of stainless brand 10x17н13м2т, has a special resistance to changes in pressure, high-temperature environments rich in chlorine ions. Without it the chemical and food industries, where a particularly important requirement is resistant to aggressive agents and corrosion resistance.
Titanium grade 12x18н10т belongs to the austenitic class. Its main advantage is the high ductility and high impact strength. Such material is used at temperatures up to 600 °C. One of the important properties is its resistance to acids average concentration and organic solvents. Paramount to industries that require reliable materials with a long life is the combination of strength and resistance to wear. Hexagon high alloy brand 20x23н18 has heat resistance and corrosion resistance, so is used in many industries.
Assortment
Precision rolling of long products can be: high and normal precision. Size — random, dimensional and multiple long. On him. the composition can be high — quality and high-quality. Referring to the production of forged, hot-rolled and calibrated. The degree of curvature of the first and second class.
Buy at best price
The company «AVEK global» specializiruetsya on the sale of any metal alloys. We offer hexagon from warehouses in Russia and Ukraine with delivery to any region of the CIS and abroad. All products are certified and available. The price depends on order volume and additional conditions. Deliveries are made promptly. When wholesale purchases are offered preferential discounts.