706 Inconel® Alloy 706 round, wire, tube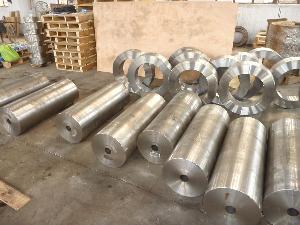 The advantages of alloy
INCONEL alloy 706 is a Nickel-chromium heat-resistant alloy, developed in the United States. This alloy is a good combination of high impact toughness, mechanical strength and good machinability. Characteristics of INCONEL alloy 706 are identical to the characteristics of INCONEL 718. However, the first alloy is easier to machine processing. A large part of the Nickel, chromium makes this alloy's high corrosion resistance to oxidation. During heating, they form an active oxide film on its surface, which increases the resistance to aggressive environment. Titanium and niobium are the principal dispersion-strengthened alloy components, and the presence in the alloy of aluminium affects positively on its strength. Dispersion strengthening of the alloy by exposure to a temperature precipitate provides the improvement in desired properties of slow hardening. As a result, it increases the stability of the weld seams under the influence of strain aging cracking.
Chemical composition of Inconel 706
Mn
C
Si
B
Cr
Cu
Mo
Ni
Co
S + P
Al
Fe
Nb
0,35
0,08
0,35
0,006
17−21
0,2−0,8
2.8 to 8.3
50−55
1,0
to 0,015
0,65−1,15
the rest
The 4.7 and 5.5
Use
The alloy grade INCONEL 706 is used where you want a combination of easy machinability and high strength. The alloy grade INCONEL 706 is used in the aerospace industry in the manufacture of shafts, turbine housings, wheels, casings diffusers, compressor shafts and disks, engine blocks etc. Also this alloy is used in the manufacture of disks large industrial gas turbines.
Buy at best price
To see more details with the products, specify its basic properties, to carry out the order, you can in our company LLC «AVEK global», which specializiruetsya the sale of heat-resistant and stainless steel alloys. We offer products from warehouses in Ukraine and in Russia with delivery to any region of the CIS. All products are certified and available. The order execution time is the shortest. If you have any questions, you will receive detailed advice from experienced managers. For wholesale orders the company provides flexible system of discounts.