Wire, round, rod L90 - СuZn10 - C52400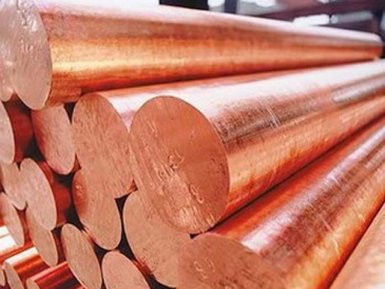 Supplier — AvecGlob Company — offers wire, rod and wheel made of brass L90 (C52400, CuZn10) at reasonable prices from the manufacturer. The supplier guarantees the timely delivery of products to any address specified by the consumer /
Technical specifications
Deformable brass brand L90 (the nearest foreign analogues — alloys C52400 and CuZn10) is a copper-zinc alloy with increased ability to draw. The alloy is a solid solution, reinforced with 10% tin. The high content of tin leads to an increase in strength and elastic characteristics of elasticity while maintaining high electrical conductivity of the alloy. Brass grade L90 (C52400, CuZn10) wear-resistant, has very good corrosion resistance and good sliding properties, which reduces unproductive work losses in rubbing mechanical pairs. The alloy has a good resistance to stress corrosion cracking.
Urgency of application
Optimum use of brass of grade L90 (C52400, CuZn10) — manufacture of stamped parts: connectors, spring contacts and springs, bushings and bearings, metal hoses, various components of equipment for the pulp and paper industry, ship and hardware production, as well as products used in the general mechanical engineering and electrical industry.
Chemical composition
The composition of brass grade L90 must meet the technical requirements of GOST 15527−2004 (numerical data — in percent):
| | | | | | | | |
| --- | --- | --- | --- | --- | --- | --- | --- |
| Fe | P | Cu | Pb | Zn | Sb | Bi | Impurities |
| up to 0.1 | up to 0.01 | 88 — 91 | to 0.03 | 8,8−12 | up to 0.005 | up to 0.002 | only 0.2 |
Physical and mechanical properties
density, kg / m 3 — 8780;
melting point, 0 С — 1045;
coefficient of thermal expansion in the temperature range 20… 100 0 С, μm / deg — 17,4;
specific heat, J / kggrad — 398;
coefficient of thermal conductivity at room temperature, W / megade — 180;
hardness in Brinell, HB — 60… 110 (respectively for soft and hard brass);
allowable stress on compression, MPa — 230… 350 (respectively for soft and hard brass);
yield strength, MPa — 100… 160 MPa (respectively for soft and hard brass);
modulus of elasticity, GPa — 110;
permissible tensile elongation,% — 38… 4 (respectively, for soft and hard brass).
Assortment and application features
Brass bars, tape and wire from the material in question are produced in a wide range of sizes and profiles. Foreign analogues are produced in a range that meets the requirements of DIN EN 1652, 12163 and 12166, the range of Brass L90 is determined by GOST 10666−90 and GOST 2060−2007.
Brass grade L90 (C52400, CuZn10) is well suited to cold planting and other form-changing operations of cold stamping with high degrees of deformation. Hot stamping of the alloy is not recommended. Mechanical machinability — satisfactory, The ability to weld and solder — good, mechanical processing is difficult due to the adhesion of metal to the cutting tool .
Supplier — AvekGlob Company — offers to purchase wire, tape or rod from brass L90 (C52400, CuZn10) in a wide assortment of sizes and profiles. Products can be bought at a price formed on the basis of European and world standards of production. Implementation is possible in bulk and retail, for regular customers, a flexible system of discounts operates.