Casting of titanium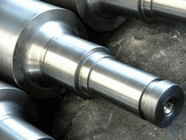 Relevance
The method of centrifugal casting is used to produce castings with the shape of bodies of rotation of bronze, aluminum, steel, cast iron. The mold, which is untwisted to 3000 rpm, is poured into the liquid melt. The pressure of centrifugal forces distributes the entire melt along the inner surface of the mold and after casting, a casting is formed. This method makes it possible to obtain two-layer billets, with alternate casting of various alloys into the mold. When the melt is crystallized by pressure, the centrifugal force makes it possible to obtain dense castings without slag inclusions and gas shells. Casting of this type allows to obtain internal cavities without the use of rods, besides, the alloy is economically saved because of the absence of a sprue system. In the manufacture, as a rule, machines having horizontal axis of rotation are used. The number of quality castings at the output is 95%.
Advantages of centrifugal casting
High performance, good quality, no non-metallic inclusions, slag, sinks, maximum metal density, wear resistance.
Range
This way of nickel, titanium made liners, cylindrical and tapered bushings, washers, thrust bearings, nuts, disks and much more. The greatest demand is casting with forms of bodies of revolution: sleeves, bushings; Crowns of worm wheels; Rotors of electric motors; Drums of paper machines.
Application
Centrifugal casting is indispensable for the production of parts of the machine-building industry, metallurgy, military-industrial complex, mining, pulp and paper, processing industry, automotive, shipbuilding.
Control
In the production of centrifugal casting, a mandatory external inspection is carried out, a check of the mechanical properties of the castings, an analysis of the chemical composition. Such methods of quality control as gamma-scopia, fluoroscopy, ultrasonic flaw detection, luminescent control. Castings in some cases are tested under pneumatic or hydraulic pressure. In order to avoid latent rejection, they are subjected to isostatic hot pressing, which approximates their crystal structure to the structure of the forged metal.
Buy at a bargain price
A large assortment of titanium centrifugal casting at the warehouse of Avek Global LLC is supplied wholesale and retail. The price is formed taking into account technological features of manufacture without inclusion of additional expenses. The quality of the finished product is ensured by strict observance of all technological production standards. The lead time for orders is minimal. If you have any questions, you will be advised by experienced managers. With bulk orders, the company provides a flexible discount system.