Chromel - 2.4870 - Nicrosil® wire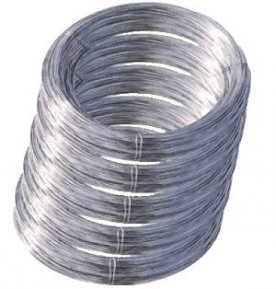 Composition
Chromel — Nickel termoelektrodny alloy consisting of: Nickel 89−91%, chromium between 8.7 and 10%, and impurities of iron, manganese, silicon, copper, cobalt not exceeding a total of 1.4%. The nichrome alloy having a similar composition, also often called the alloy chromel A.
Advantages of alloy
Nickel contributes to the increase of malleability, ductility and resistance to corrosion. (The surface becomes persistent greenish film of an oxide of Nickel). Chromel is relatively hard and heat resistant alloy. The density of chromel equal of 8.71 g/cm3, and melting temperature is 1400−1500°C. the Annealing is carried out in the temperature range of 800−900°C, and the hot treatment at 1000−1200°C. the Ratio of the resistivity of the alloy is equal to 0,66 Omhm2/m, and the linear expansion of 12.8 x 10-6/°C. Chromel has a good combination of thermoelectric properties and heat resistance. In places of contact with other metal alloy when heated, generates an electric potential which changes almost linearly in a large temperature range. For example, thermoelectric power paired with platinum at a temperature from 1000 °C to 0 °C is about 33 millivolts. Chromel is able to maintain long-term work in the air permanent thermoelectric power at t° 20 to 1000 °C. the higher temperatures increase the error.
Disadvantages
Obtaining pure Nickel is associated with a number of difficulties that affect its value. The disadvantage is the reduction of thermo-EMF in the process of rapid cooling after annealing below 600 °C. depending on the cooling time of the alloy changes its thermoelectric power — the faster it cools, the thermo-EMF is below. Application chromalloy wire for measuring devices from a stationary heat source above 600 °C increases the measurement error to 10 °C. you can Fix this by partial faux brake cooling in the range of 250−600°C, thus allowing to stabilize the thermoelectric power chromel, and to obtain more accurate readings. Chromel under the influence of reducing and oxidising gases hot 1000 °C, subjected to corrosion, as well as under the influence of sulphur and hydrogen (the surface takes on a greenish hue, much changing the thermal electromotive force, and causes the alloy to embrittlement).
Use
The most popular of all the products, this Nickel alloy (round, tape, wire) is the wire. It is widely used in the manufacture of thermocouples, resistors, compensating wires, heating devices. The ability of the wire to maintain stable thermoelectric power at temperatures up to 1000 °C in air allows you to use it in the form of a positive thermal electrode thermocouple alumel-chromel (due to the heat resistance can withstand the «thermal shock» to t° 1300°C). Chromel is used as a temperature sensor during welding and for compensating wires (wires for connection of thermocouples). The electrodes of an alloy of chromel-alumel are manufactured from wire diameter is from 1.2 mm to 3.2 mm. isolate Them from each other and from the protective cover porcelain single-channel isolators. The working end of the chromel-alumel protected from contact with metal case of porcelain tip.
Features
All thermocouple chromel-alumel, in addition to TX-VII and THA-I-XV, have greater inertia. All thermocouples have an ordinary mechanical stability in addition to THA 420 THA-430, which are vibration-resistant. Thermocouple chromel-alumel demonstrates excellent work in oxidizing environments without corrosive gases. It is possible due to the formation of thin protective oxide films that prevent the penetration into the metal of oxygen.
Most popular chromel grades NH9, NH9,5. Supply chromel HX of 9.5 is carried out in the following forms:
circle (mm Ø 12,0 — 100,0 mm);
wire (Ø 0,10 — 12,00 mm);
tape (thick.0.1−5.0 mm wide. 3−600mm).
Chemical composition:
| Ni+Co | Fe | C | Co | Si | Mn | Si | Impurities | Al |
| --- | --- | --- | --- | --- | --- | --- | --- | --- |
| 87.4 — 90.4 | not bol. 0.3 | not bol.0.2 | 9 — 10 | not bol. 0.4 | not bol. 0.3 | not bol. 0.4 | only 1.4 | 0.6 — 1.2 |
Physical properties at 20 °C.
Hardness, soft alloy
HB 10 -1 = 300 MPa
Hardness, hard alloy
HB 10 -1 = 150 — 200 MPa
Melting point:
1435°C
The temperature of hot processing:
1200 — 1000°C
Annealing temperature:
800 — 900°C
Buy at best price
In stock LLC «AVEK global» in a wide range of products from chromel at the best prices. We offer favorable conditions of cooperation. On our site you will always find the most recent information. If necessary, advise You experienced managers who will help determine the choice. Product quality is guaranteed by strict observance of the norms of production at all stages. Delivery times are minimal. Wholesale orders are subject to preferential discounts.