Stainless steel strip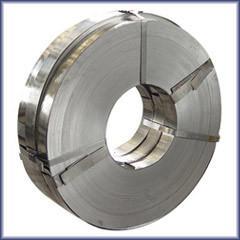 Manufacturer
To increase mechanical strength and plasticity — the practice of heating the steel to 1050−1080°C, then, to give hardness, quenched it in water. This process of work hardening strengthens the surface layer by means of plastic structural deformation. As a result, products have high hardness and strength, but partially lose their ductility and toughness. With increasing percentage of cold working, stainless steel is more durable, but loses its plasticity. In addition to stainless vysokokachestvennoj and work-hardened tape, there are also soft and polunagartovannye tape. They all vary in appearance of the edges, surfaces, precision and quality workmanship. As a rule, use the following grades: 12H18N10E, 12H25N16G7AR, 12H21N5T, 12 (30)X13, 08H17N5MZ, 12H17G9AN4, 12H18N9, 10H17N13MZT, 09H15N8YU, 10X17H13M2T, 20KH13N4G9 and other.
Use
Today it is difficult to find such industry, which would not use stainless steel. Annealed strip, thanks to its high ductility, can be applied to the shirring — give it any shape. Especially popular brands are — 12Х18Н10, 08X18H10 stainless cryogenic and structural steel, laced with titanium. These steels belong to the heat-resistant and able to withstand t° to 600 °C, possessing a high corrosion resistance. They are used in the manufacture of containers operating under high pressure, mainly in the food industry. Tape brand 12X18H10Tusually are produced of soft, but after special treatment can become negativnye. Thanks to their qualities, they are indispensable in the automotive, mechanical engineering, and the manufacture of electrical devices.
The chemical composition of GOST 5632−72
Mark
C
Si
Cr
Cu
Mn
Ni
Ti
S
P
Fe
12KH18N10T
≤0,12
≤0,8
17−19
≤0.3 mm
≤2
9−11
≤0,8
0,02
0,035
the rest
Mark 10H17N13M2T resistant to high temperatures and aggressive environments that are saturated with chlorine. Give a high resistance molybdenum and titanium in the composition. It durability is five times faster than carbon steel. Mark 20H23N18 indispensable in the chemical, metallurgical, Electromechanical and other industries. This is due to its resistance to corrosion when exposed to concentrated condensates and gases.
The chemical composition of GOST 5632−72
Mark
C
Si
Cr
Cu
Mn
Ni
Ti
S
P
Fe
10X17H13M2T
≤0,12
≤0,8
16−18
≤0.3 mm
≤2
12−14
≤0,7
0,02
0,035
the rest
Buy at best price
Stainless steel belt of a domestic production are supplied by rolls in width from 6 to 410 mm and thickness of 0.15 — 6 mm Stainless steel imported tape can be produced up to a width of one meter with the weight of the rolls significantly higher than domestic. To see more details with the products, specify its basic properties, to make an order you can on our website the company «AVEK global» where a huge range of seamless stainless tape that are available in retail and wholesale.