20Х3МВФ - эи 415 wire, circle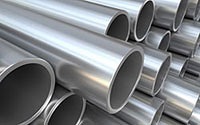 Production
Steel grade 20X3MVF (EI415) is one of the complex-alloy high-temperature alloys, which contains chromium 2.8−3.3%, molybdenum 0.35−0.5%, manganese 0.25−0.5%, vanadium-0, 6−0.85%, copper and carbon — 0.2%, silicon to 0.37%, sulfur and phosphorus additives — hundredths of a percent. The purpose of alloying is to increase the technological properties of products: heat resistance and heat resistance, resistance to aggressive media. Trimming of semi-finished products is made at the beginning of the process at a temperature of 1150−1180 ° C and at the end — about 850 ° C. The pipes are quenched at 1200 ° C in water or in air. The rods are hardened in air at a temperature of 1050−1150 ° C.
Chemical composition of the alloy
Make
C
Si
V
W
Cr
Cu
Mn
Ni
Mo
S
P
Fe
20Х3МВФ
0.15−0.23
0.17−0.37
0.6−0.85
0.3−0.5
2.8−3.3
Up to 0,2
0.25−0.5
Up to 0,3
0.35−0.5
0.025
0.03
Remainder
Application
Steel 20Х3МВФ, alloyed with chromium, molybdenum, silicon is able to withstand contact with an aggressive environment, because during the process of heating, these substances form protective films of oxides on the surface. The pipe is designed for light loads, in particular, in different power plants and heating devices. The pipe and circle of 20Х3МВФ brand are used in production of slit furnace parts, which serve for high-speed burning of ceramic tiles, flat household ceramics, etc. ceramic products. Wire 20X3MVF grade is used in conveyor stove grids. The pipe is in the details of the burner. It is in demand in the manufacture of covers of electrical thermocouples, tk. It has the feature of not contaminating the electrodes of thermocouples and ensures reliable protection when working in hazardous conditions. The 20X3MVF pipe can withstand a temperature of 1250−1300 ° C for a long time. Therefore, it is used for internal combustion engines, for parts of steam and gas turbines, jet engines, nuclear power plants as a structural material.
Buy at a bargain price
The company Avek Global specializes in the sale of heat-resistant and stainless alloys. We offer metal 20Х3МВФ brand from warehouses in Russia and Ukraine with delivery to any region. All products in stock are certified. The timing of the implementation of orders is minimal. If necessary, you will receive an exhaustive consultation from experienced managers. With bulk orders, the company provides substantial discounts.