Babbit B83 - Super Tough babbit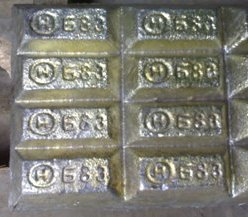 Characteristics of babbit B83
Babbit — antifriction bearing low-melting alloy of antimony with tin and copper, or — antimony with lead, copper and tin, or — an alloy based on aluminum and zinc. The antifriction property is given to them by the structure of heterogeneous solid particles, which serve as a support for bearings encased in a soft base of lead or tin. This will give uniform contact and wearability of bearings to the shafts, small friction and wear resistance. Manufacturing — pigs. Brands: B-88, B-16, BN, B-83.
Advantages of Babbit B83
The most popular antifriction alloys;
The index of wear resistance is higher than that of the lead alloy;
Cheaper babbita B88;
Coefficients of friction of lubricant 0,28 (without lubricant), 0,005 (with lubrication);
Loads: 400 kgf / cm2 (static), 1000 kgf / cm2 * s (dynamic), 100 kgf / cm2 * s (percussion);
The maximum rotational speed is 60 m / sec;
Heating 110 ° C (above zero);
Fill thickness ≥1 mm.
Disadvantages of Babbit B83
Low strength (impact loads);
Application in bearings subject to vibration and filled with a thin layer — is unacceptable.
Production
Material composition (%)
Alloy Brand
Fe
As
Al
Pb
Cu
Sb
Zn
Sn
Bi
B83
≤0.1
≤0,05
≤0.05
Up to 0,35
From 5.5 to 6.5
From 10 to 12
≤0.004
From 80,941 to 84,5
≤0.05
Application of Babbit B83
Casting of bearing and friction parts;
Turbine, crosshead, frame and crank bearing low-speed diesel;
Support bearing of the propeller shaft, turbocharger, turbo pump;
Bearing of ship and stationary steam engine (power more than 500 kW);
Bearing of heavy machine-building equipment;
At high speeds and dynamic loads;
Eccentric cone crusher;
Bearing high speed gear stand.
Buy B83 at a reasonable price
At the warehouses of LLC «Avek Global»:
Availability of a wide range and a large selection of products;
Order and purchase through representative offices;
Order and purchase through the website;
Guaranteed quality;
Full compliance with technological norms of babbit production;
Minimum terms of manufacturing;
The dependence of the price on the volume of the order and the additional delivery condition;
Flexible system of discounts for bulk orders.