Tungsten target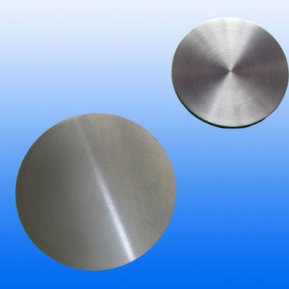 The advantages of tungsten target
Tungsten sputtering target has exceptional heat resistance (temperature is PL. of tungsten is +3422°C), high modulus of elasticity and resistance to temperature creep, the minimum coefficient of thermal expansion in comparison with other materials, durability, reliability and durability.
Physical quality
The temperature at which the obtained data the features of t°C
20°C
The linear thermal expansion coefficient α [1/Deg]
43x10-6
The density of the alloy [g/cm3]
19,3
Tensile strength tensile kg/mm2
35
Specific heat at 20 °C [kJ/(kg·deg)]
0,134
The thermal conductivity K [W/(m·K)]
300,173
Electrical resistivity R, Mhmm2/m
0,054
Disadvantages
The tungsten target is not enough plastic and hard at ordinary temperatures. The drawbacks include the difficulty of obtaining tungsten in its pure form, a large proportion (like gold) and brittle at low temperature. Tungsten target because of its exceptional properties to process (rolling, drawing and forging) only with considerable heat.
The use and production of
Tungsten targets are made in the form of flat discs, plates and pipes of various configurations with tolerances and dimensions according to customer's drawings. For the tungsten targets the more complex forms used machining powder shtabikov, which are impregnated with copper. At the end of processing copper burned in a vacuum, and the powder billet in this case is compacted to 90% density. Tungsten tube is produced by ultrasonic forming rods. The cost is determined by the complexity of the size, configuration, and additional requirements that are specified in the order. The purity of the material and by strict observance of technology of production ensures high strength and heat resistance. Tungsten targets are used when applying thin films on glass for optical instruments, solar panels, etc.
Tungsten target and their brands:
Indicators of the maximum size planar targets:
target is discoid with a diameter of 630 mm;
the target rectangle: 400x1550 mm;
the usual parameters of the target:
0.710"X 4.75″ X 44.000″
304.8x304.8x3.17−9.5 mm
812x127x8mm
15x133x778мм
18x248x300mm
214x1600x11mm
14x108x1462мм
Diameter 322 mm x δ
Diameter 152XØвн132.5xL750 mm
Diameter 152xØвн125xL800мм
Diameter mm 157xØвн125L1900
Diameter 168х Øвн144хL1000 mm
Diameter 165,5XØвн125xL1650 mm
Buy at best price
Large assortment of tungsten targets on the stock LLC «AVEK global» can satisfy any consumer. The quality of the finished product is ensured absolute compliance with all technological norms of production. The order execution time is the shortest. If you have any questions, you will receive detailed advice from experienced managers. In the implementation of wholesale orders the company provides flexible system of discounts.