Sheet KHN32T - эп670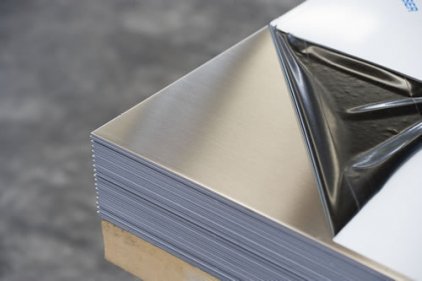 Relevance
Industrial designs today are often forced to work in the most severe conditions. They are exposed to high temperatures, aggressive gases and solutions, and resist significant mechanical stresses. Details and structures made of stainless sheet products of the brand ХН32Т (ЭП670) are designed for operation for a long time at an operating temperature up to 1100 ° C, under load and in an aggressive environment.
Chemical composition of HN32T (in percent).
Cr
Ni
Fe
Ti
Si
Mn
P
Al
FROM
S
19−22
30−34
41.4−50.75
0.25−0.6
Not bol. 0.7
Not bol. 0.7
Not bol. 0.03
Not bol. 0.5
0.005
Not bol. 0.02;
Basic properties
The surface of the sheet is not susceptible to oxidation under long-term operation and high temperature. Density = 8.16 g / cm³, the coefficient of linear expansion is 13.7 (1 / degree K). The mechanical properties depend on temperature. The sheet has a coefficient of thermal conductivity in the range 15.9 — 23.4 W / (m • degree K).
Manufacturability
Due to its good chemical composition, the sheet ХН32Т has good weldability, which allows using simplified welding equipment. The quality of this sheet allows applying all modern technologies of metal working: grinding, cutting, polishing. A large range of sizes of produced sheets can facilitate the selection of the most suitable workpiece for the part.
Hardening
The sheet of grade ХН32Т is subjected to hardening at t 1000 1000 — 1200 º C for subsequent hardening, followed by cooling in water or air. This helps normalize internal stresses in the alloy and increase the strength characteristics of the parts.
Sheet sorting
Sheets ХН32Т
Length, m
Thickness, mm
Width, m
Cold-rolled
Not more than 2
3.5 — 28
0.7 — 1
Hot-rolled
0.7 — 5
Not more than 3,2
0.7 — 1
Sheet Application
Due to its corrosion resistance, high strength and heat resistance, the sheet ХН32Т finds various and wide use. It produces sheet metal parts, welded gas-discharge pipes of high-temperature installations for petrochemical engineering, and ammonia production. XN32T sheets are widely used for the production of structures and parts, from which it is required to provide long-term and trouble-free operation at temperatures up to 1100 ° C and a large margin of mechanical strength.
Buy at a bargain price
LLC «Avek Global» sells products from heat-resistant chromium-nickel alloys at a bargain price. It is formed under the influence of world prices for rolled metal products without including additional costs. Sheet ХН32Т belongs to a popular group of metal products, due to its real cost and variety of produced options. The face of our company determines the high level of service and excellent quality of products. The website of Avek Global LLC reflects the most timely information. Our managers are always happy to help with the solution of the issues that have arisen. The implementation of orders takes minimal time. Discounts for wholesale buyers are provided. Deliveries go directly from the warehouse. This gives consumers a clear choice of products and significant savings in warehouse stocks and premises. In the absence of the required type of product in the basic version, as well as in case of need of another product variant, we can produce their non-standard sizes by individual order.