Solder POS 40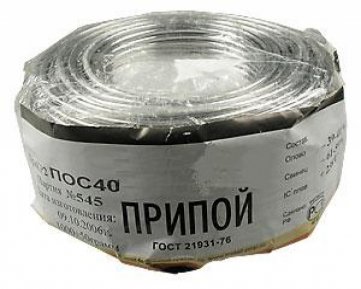 Application POS40
Used for tinning and soldering any electrical equipment, all parts made of galvanized iron and have sealed seams. Easy to solder brass, copper wire and iron.
Dignity POS40
Melting point in degrees
Temp. soldering in degrees (RJC)
UD.weight in gr/cm3
UD.El.soprt. in мк0м*m
Pred.so on. when Rastas., in MPa
Solidus
The liquidus
183
238
290
9,3
0,159
3,8
Solders brand POS 40 (PIC 61 M. 61) unlike other brands of tin-lead solders provide an increased level of purity soldering.
Production POS40
mark
GOST
Odds.vol.
Chem.comp. PIC 40 Wt. share in %
No more
In the limit
POS40
21930
Wire d-1 and 1.4, d-1.5 to 5, pig, rod d-8−15*.

Zn

0.002

Ni

0.02

Sb

0,1

As

0.02

Al

0.002

Bi

0,2

Fe

0.02

Cu

0,05

S

0.02

Pb

58.766 — 61

Sn

39 — 41
Comparative characteristics of solders brand POS
Solder
Supply
t° melting
Application
PIC 30
Ingots, wire Ø 1−4 mm, rod
183−255°C
Tinning and soldering of radiators, brass and sheet zinc
PIC 40
Ingots, wire Ø 1−4 mm, rod
183−238°C
Soldering of electrical equipment, parts of galvanized iron, creating a watertight seams.
POS 60
Ingots, wire Ø 0,5−4 mm, rod
183−190°C
Soldering of radio equipment, printed circuits, precision instruments.
PIC 90
Rod
183−220°C
Soldering and tinning of household and medical equipment
Buy at best price
In the warehouses of the company «AVEK global» in a wide range of fusible alloys of various brands at competitive prices. Huge selection of solder capable to satisfy any customer. To execute the order and purchase of POS 40 you can by contacting our office or through the online website LLC «AVEK global». Quality guarantee full compliance with production technology. The terms of any order minimum. For wholesalers there is an interesting proposal.