15KH25T - 1.4762 - tube aisi 446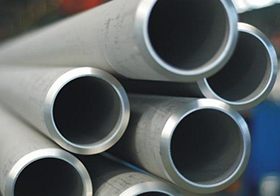 Composition
Brand 15KH25T (ЭИ439) refers to stainless steel is a complex alloy, the alloy of the ferritic class. In the composition according to GOST 5632- - 72 contains: 24−27% chromium, 0.8% manganese, 1% silicon, 0.15 carbon, to 0.5−0.9% titanium thousandths of a percent of sulfur and phosphorus.
The chemical composition of (GOST 5632−72)
| Alloy | Si | C | Mn | P | Cr | Ti | S | Fe | |
| --- | --- | --- | --- | --- | --- | --- | --- | --- | --- |
| 15KH25T | ≤1 | ≤0,15 | ≤0,8 | ≤0,035 | 24−27 | 0,5−0,9 | ≤0,025 | Basis | |
Production
Steel production is carried out in an open arc furnace. Hot rolled semi-finished products produced at a temperature of 1100 °C at the beginning of the process, and 800 °C upon its completion. Steel after deformation cooled. In accordance with the first mode is cooled in water, oil or air, and according to the second mode — the cooling is with water, followed by aging products for 4−4. 5 hours. Welding of steel 15KH25T carry out electric arc method.
Application
Steel 15KH25T used in the production of various mechanisms and parts, including pipeline systems, whose work is carried out under moderate stress but without impact load. The 15KH25T steel is used in parts of the burner. It is used in the manufacture of covers electrical thermometers. It can be operated under the temperature from -20° to +1100°C, does not pollute the electrodes thermocouples and provides reliable protection for the sensors when working in harmful conditions of aggressive environment. Such a pipe can withstand a heat load of 1000 °C for a long time and not lose resistance to static stresses. Therefore, it is used for electrodes of spark plugs in the internal combustion engines, as a structural material of heat exchanger systems for steam and gas turbines, jet engines, atomic power plants, etc.
Buy at best price
The company «AVEK global» implements of metal heat-resistant chromium alloy at an affordable price from the manufacturer. We have the most variety of products for large-scale production. We offer favorable conditions for wholesale and retail customers. On our website You will find the necessary information. Our consultants are always ready to answer your questions. The price depends on order volume and additional conditions of delivery. Implementation of orders in the shortest possible time. Wholesale customers enjoy significant discounts.