Ls59-1 - 2.0402 - CuZn40Pb2 sheet, strip, pipe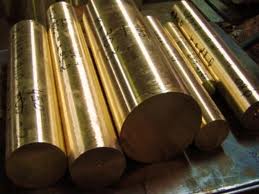 Production
Brass grade L59 is manufactured under the influence of sufficiently high temperatures, more than 1000 ° C. During the cooling, the finished brass gives some shrinkage, approximately 2%. The content of various impurities in Brass L59 is less than one percent. This material is welded without any preparatory measures. GOST provides for the hardness of brass Л59 (НВ10 -1) = 163 MPa.
Brass L59
Main Components
Pb%
Fe%
P%
Sb% and Bi%
Cu
Zn
57−60%
38−42%
0.8−1.9%
0.5%
0.02%
0.01% and 0.003%
Relevance
Brass L59 is one of the best non-ferrous alloys for the manufacture of wire, which is very widely used in production. Special brass has excellent strength, as well as very good durability compared to ordinary brass. Most brasses also have excellent anti-friction characteristics. They are resistant to the effects of sea water, especially tin, siliceous, aluminum, manganese, the latter are also resistant to superheated steam. Most brasses perfectly combine increased corrosion, as well as antifriction properties. Almost all types of brass are good construction materials under low temperature conditions. Just like copper, they perfectly retain their plasticity and do not become brittle with very strong cooling.
The most common lead brass. The main advantage of them is good workability by cutting. This, as a rule, is based on the possibility of high-speed processing of various blanks with the minimal wear of the tools used. When it is processed, sufficiently fine and free-flowing chips are formed, as well as the slightest hardening when cutting the material.
Buy at a bargain price
To get acquainted with more in detail with the products, to clarify its basic qualities, to place an order, you can through the website of our company LLC «Avek Global», which specializes in the supply of non-ferrous alloys. We offer products from warehouses of Ukraine and Russia with delivery to any region of the CIS. All products are certified. Terms of execution of orders are minimal. On the arising questions, you are always ready to consult experienced managers. On wholesale orders discounts are provided.