Casting bronze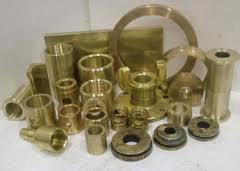 General characteristics of casting
Bronze is an alloy, based on tin and copper, doped silicon, aluminum, lead, beryllium or other elements. All the bronzes are divided into casting and wrought stamps. Casting, in fact, is a complicated process when a specially prepared form is filled with molten material. Then after complete cooling, the resulting product is sent for further processing.
Principal cast bronze
Bronze tin — Bro4c4s17, Bro10f1, БрО10Ц10, Bro5c5s5, Bro8c4. High quality casting properties of these brands — their main advantage. They have a low melting point, and during casting the most insignificant shrinkage ratio compared with other alloys. Used for the production of complex shapes.
Bronze aluminum — Bra10zh4n4l, Bra9mc2l, Bra10zh3mc2, Bra9zh3l. Tin distinguish them from less than perfect casting quality. They have a coefficient of shrinkage more, but no formed porosity, and produces more dense castings with a high level of specific strength. The introduction of small quantities of phosphorus have significantly improved their quality in the casting.
| Grade of bronze | Hardness HB 10-1 | t° of the casting (°C) | σin(MPa) |
| --- | --- | --- | --- |
| Bra9mc2l | 70−90 MPa | 1080−1150° | 392−392 |
| Bro5c5s5 | 60−70 MPa | 1250−1300° | 147−176 |
| Bro8c4 | 75 MPa | 1100−1150° | 196−196 |
| Bra9zh3l | 100 MPa | 1080−1150° | 490−392 |
Note. The range of σis in (MPa) for given casting gravity die casting/sand form.
Varieties of bronze casting
— centrifugal;
— in shell shapes;
— gravity die casting;
under pressure;
— in sand molds (hand or machine molding);
— vacuum casting;
— investment casting;
— burned products.
Cast blanks are supplied after carrying out a secondary heat treatment (quenching with vacation, normalization) in accordance with GOST 8479−70 and with the required strength (KP). Forging is a relatively rough approximation to the forms of finished products, which do not need large costs for subsequent machining. Economic structural shape forging enables the processing of preforms with the highest productivity with the least waste. Centrifugal method it is possible to obtain bronze castings (hubs, rims, rings, wheels, bearings) weighing up to two tons and a diameter up to 1500 mm. These elements put after mechanical pre-processing with pre-determined allowance. The investment casting models, is made by permanent mold method (slides, glides, flat items, crackers), weighing up to two tons and dimensions up to 2000 mm. All brands of bronze, fully meet the requirements of GOST 493−79, GOST 613−79.
Buy at best price
In stock LLC «AVEK global» unlimited range of products from non-ferrous metals at the best prices. We offer the choice will satisfy any customer. Buy any kinds of bronze casting, using an Internet website or by contacting our office. The quality of the products is guaranteed by strict observance of technological norms of production. The timing of orders is minimal. The price level depends on the order quantity and other conditions of supply. For wholesale orders flexible system of discounts.