Brass tape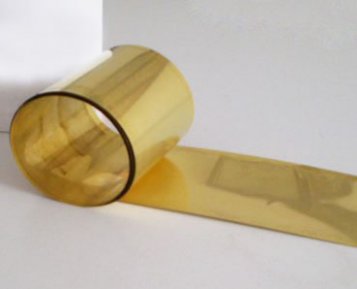 Production
Brass tape has a rectangular cross-section and random length. Made by cold or hot rolling. Distinguish between hard, soft, semi-solid tape extra high, high, normal accuracy of production. Tape L68, LS59−1, L63 manufactured according to GOST 2208−2007; L68 (for capsules) — according to GOST 1018−77; L63 (radiator) — GOST 20707−80. Chemical control is normalized to GOST 24231−80.
Marking
PG — tapes used in the food industry, GW is normalized by the depth of the extrusion, UM — is made from antimagnetic brass, P — used for the production of radiator fins, T — for the manufacture of radiator tubes, having established standards for hardness, R — has established standards for tensile.
Application
A high degree of adaptability enables the use of a brass strip in the manufacture of capacitors, lead frames, connectors, relays, nepovoljni resistors, caps and other specific elements. For everyday needs are elements of furniture, accessories, various small parts of complex shape. In the automotive industry are elements of sinks from brands L90, L63 (20707−80). Also ribbon is used as a decorative element for building facades, while engraving, the construction of telecommunications networks and plating.
Thickness, mm
Ed.edit
price
Brass ribbon L63 hard, soft, semi-solid

Oh, 1

About, 2−2

Kg.
By appointment
Brass ribbon L68 hard, soft, semi-solid

On, 25

ABOUT.

On, 8

On, 82

Kg.
By appointment
Tape brass LS59−1 hard, soft, semi-solid
About, 1−2
Kg.
By appointment
Dignity
Brass tape is a very technological product that provides resistance to corrosion, reliability, longevity of use. The tape is perfectly treatable, installation, meets the high technological standards, while being safe in all respects. It is a reliable heat conductive link. After recycling it can be used again.
Disadvantages
Products made of brass, not very durable compared to other alloys.
The production of brass strips
Name
GOST
Tu
marking
note
Tape brass for various purposes

22О5,

22О8−91, 1О18−77, 2О7О7 IS EQUAL TO 8,

4442−72,

5169, 8ОЗ6

48−21-З57−9°,

48−21-ЗЗ4−9°,

48−21−654−92,

1845−1О6-О66−99,

48−21−16О-8Z,

48−21−847−89

Л9О, L85, Л8О, L68, Л6З, LS59−1, ЛС6З-Z, Lmc58−2

Standard cutting

About, 5 — 2, Ох1О-6ООхL

Chem.composition GOST 15527−7About

For the manufacture of primers
1О18−77
L68
Radiator tape
2О7О7 IS EQUAL TO 8
L90, Л6З
For precision instrument engineering
4442−72
6З LS-Z
Brass lead
The marking tapes made of brass
The way PR-VA
precision
length
Persons conditions
The state of mater

G hot

D drawn (headnode.)

And normal in width and increased in thickness;

N the normal width and thickness;

In high precision thickness.

P increased in width and thickness;

To increased in width and a normal thickness;

ND random

PS increased accuracy in the camber;

PCS for stamping;

AM antimagnetic;

IG withstand the bend test;

P for the fins,

GW with normalized depth of the extrusion

T for radiator tubes

T solid;

M soft;

N semi-solid;

W spring-solid

On very hard
Rectangular strips are labeled P. R. Brass tape hot rolling is made of brands L63, L68, L80, L85, L90, Lmc58−2, LO62−1, ЛМл58−2, LS59−1. The thickness is from 5 to 25 mm.
Buy at best price
To see more details with the products, to clarify its basic qualities, place your order, you can through the website of our company LLC «AVEK global», which specializiruetsya on the supply of non-ferrous alloys. We offer products from warehouses in Ukraine and Russia with delivery to any region of the CIS and abroad. All products are certified. The timing of orders is minimal. For any questions, you are always ready to advise experienced managers. For wholesale orders there is a reduced discount.