Non-ferrous metals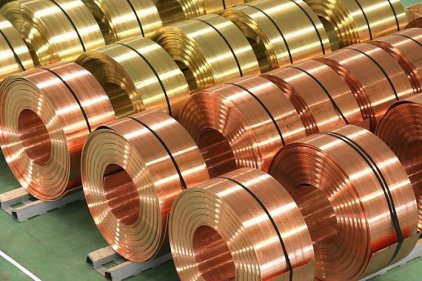 Supply
One of the key types of activity of LLC «AVEK global» is the production and sale of non-ferrous alloys Russian and foreign production. The company «AVEK global» carries out direct deliveries from the Ukrainian and Russian plants. Customers can buy colored metal from the best manufacturers at the best prices.
At the company's warehouse in the presence of any metals and alloys. In fact the whole list of products presented on the site. When ordering the company «AVEK global» offers it in maximum short terms. The company experts are always ready to provide information support. Turning to the company, any client will receive advice on all matters of interest. The firm has a colour hire any assortment: pipe, hexagon bar, sheet, strip, rod, foil, area which is used in all sectors of the economy: defense industry, industrial chemicals, aircraft, nuclear, electrical industry. Ease of processing, strength, ductility, aesthetics non-ferrous metal demand everywhere.
Classification
In the technique adopted classification of non-ferrous metals on which they are divided into different indicators, the distinguishing feature for any category:
light
heavy non-ferrous alloys
precious metals (including platinum alloys)
refractory
scattered
rare earth
radioactive
The most popular:
Aluminium, aluminium alloys, magnesium, copper, Magnaneraie alloys, titanium, Nickel, bronze, tin bronze, zinc, lead, tin. The most commonly used non-ferrous metals in the form of various alloys, which allows to change the physical, mechanical and chemical characteristics of non-ferrous products within wide limits.
Advantages of non-ferrous metals
excellent electrical conductivity
plasticity
resistance to corrosion and temperature changes
versatility.
Also, the characteristics of non-ferrous metals can be changed by thermal processing, artificial and natural aging. They are subjected to all kinds of mechanical processing: forging, rolling, stamping, pressing, cutting, soldering, welding.
Production
From nonferrous metals produce casting, and all kinds of semi-finished products:
wire
profiles
round, square, hexagonal bars
strip
tape
foil
sheet
Any customer will find the necessary products.
Buy at best price
Our skill work and the system of relationships with suppliers ensure the desired result. Buying non-ferrous alloys used in the company «AVEK global», you find a worthy partner. See the price list on the website of the company, as well as contacting the nearest office of the company. All implemented products meet the standards of the European standard ISO 9001, which is confirmed by adequate certificates properties. Regular customers and wholesale buyers get the bonuses. If necessary, can be carried out delivery of production vehicles. Finished goods warehouse has a comfortable entrance. The company guarantees high quality products, but also the long life.