Titanium pipe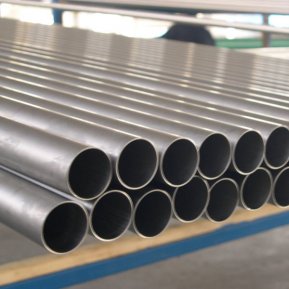 Manufacturer
Tube made of titanium — a product with a hollow profile of different sections made of measuring length, random and multiple dimensional. Properties depend on the method of manufacture, chemical composition, material state. Sampling for chemical composition control is normalized by state standard 24231−80. According to the method of production of pipes are divided into hot-rolled (machining on the outer and inner diameter) and cold-rolled welded and seamless. Each method have their own merits. For example, welded — with the standard 19807−74 24890−81 and are manufactured from the following brands: OT4−0, VT1−0. They are usually produced from ribbons with the help of argon-arc welding. Seemless cold-drawn tube are made from brands ПТ7М and VT1−0 in accordance with GOST 22897−86,19807−74 and OST 1 90050−72
Marking
Inform about the developer. For example, the PT developed by CRISM «Prometey», VT series developed by VIAM-Titan. Ordinal numbers indicate the corresponding number of stamps. The surface is etched and polished.
Quality
Quality are divided into group, And etched in the annealed condition and group B without heat treatment, and etching of the surface. The outer and inner surface must not have cavities, delamination, captivity, cracks, coarse marks Stripping, deep scratches and incomplete fusion of the seam. Ends cut exactly at a right angle and cleaned from burrs.
Advantages
High strength, corrosion resistance and lightness, satisfactory workability, good ductility and weldability. In extremely low and high temperatures all the advantages are retained in full. Resistance in marine and fresh water, in the atmosphere of sulfur in contact with nitric acid, in the environment of natural gas and petroleum products, salt water, in a mixture of KOH and NaOH at a concentration of up to 40%, in the boiling environment of ammonia 20% concentration in the molten sulphur to a temperature of 240 °C, in an atmosphere of SO2 and industrial gases, salts of copper sulphate and H2 S, carbon dioxide soda, etc. At t° to 100 °C — resistance to dichlorooctane, «ice» concentrated acetic, Chloroacetic, lactic acid, acetic anhydride, and also in tartaric acid to t°100°C and in fresh water at a pressure of over 100 atmospheres and a temperature of 260 °C.
Diameter
Wall thickness
Production method
Unit
Cost.
Brand OT4−0
6 mm
6 mm
6 mm
6 mm
negotiable
Brand VT1−00
16 -140
16 -140
16 -140
16 -140
negotiable
Alloy ПТ7М
13 -110
1,5 — 6
seamless (i.e., seamless)
kg
negotiable
Application
Widely used in the most critical areas in modern manufacturing: in the underwater shipbuilding, reaction engineering, petrochemical industry for drilling, extraction of gas and oil, easy to cope with the challenges that are crippling other metals. Titanium tube series VT — durable and lightweight, resistant to chemicals and corrosion are demanded in oil and gas production, with the development of offshore, deep-sea exploration. It produced hot and cold. After rolling it undergoes machining. Is resistant to temperature in the range of -250°C +450°C and aggressive agents that is invaluable in the chemical industry. Significant electrical resistance and namagnichennosti VT1−0 make it popular in radio electronics. Pipe grades rarely used, it is also little affected by salts, moisture and temperature changes. Used in the petrochemical and gas industry.
| Alloy | Elongation, % | Rupture strength |
| --- | --- | --- |
| PT-1M | 25 | 35 — 58 kgf/mm2 |
| VT1−00 | 20 | 30 to 45 kgf/mm2 |
| PT-7M | 24 | 45 — 68 kgf/mm2 |
| VT1−0 | 15 | 40 — 55 kgf/mm2 |
Production
Welded tubeshomemade of marks VT1−0, OT4−0 in accordance with GOST 24890−81 and 19807−74. They are made of tape, usually with the help of argon-arc welding. Seamless cold drawn tubes manufactured in accordance with OST 1 90050−72 and GOST 22897−86, brand VT1−0 or ПТ7М.
Diameter
Wall thickness
Production method
Unit
Cost.
OT4−0
6 mm
6 mm
6 mm
6 mm
negotiable
VT1−00
16 -140
16 -140
16 -140
16 -140
negotiable
ПТ7М
13 -110
1,5 — 6
seamless (i.e., seamless)
kg
negotiable
Buy at best price
The company «AVEK global» specializiruetsya on the sale of any metal alloys. In stock is a wide range of pipes series BT1−00, BT1−0, PT-7M, PT-1M, with a diameter of 0.2 mm — 38 mm and a wall thickness of 0.07 — 8 mm in stock LLC «AVEK global» can satisfy any consumer. The quality of the finished product is ensured absolute compliance with all technological norms of production. The order execution time is the shortest. If you have any questions, you will receive detailed advice from experienced managers. For wholesale orders the company provides flexible system of discounts. The chemical composition of the alloy corresponds to GOST 19807−74, and their assortment complies with the regulations GOST 22897−86, 19807−74 and OST 90050−72 and specifications: 14−3-843−79, 14−3-161−73 and 14−3-820−79.