Metal hose. Flange connection with flap bolts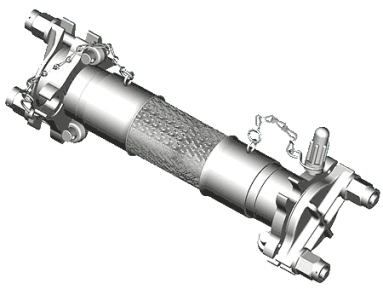 general characteristics
Hermetic high-pressure metal hoses with flange connections, flap bolts, corrugated sheath of the SRGS class are used for fast joining of pipelines and gas, condensate, fuel and lubricants. The metal hose of the SGPS is made of a steel strip 0.15−0.4 mm thick by the method of winding a profiled steel strip. The bellows part is reinforced with a single or double steel net braid. At the end of the sleeve is put on a steel beaker, which reduces the bending stress in the fitting area of the reinforcement. The sleeve of the 4656A series is manufactured in lengths of 250 — 6000 mm. With internal Ø of corrugated pipe 50 — 150 mm. The calculation of the length of the product includes the flange parameters on both sides.
Using
In conditions of extreme temperatures and pressure for pumping steam, water, condensate, chemical media and petroleum products. The elasticity of the hose compensates for the mounting and thermal deformations, which makes it possible to widely apply it in the nuclear, chemical, food industries, machine-tool construction, mechanical engineering, shipbuilding, and metallurgy. Its application on fuel lines provides for the operative replacement of the working elements of the pipeline. The main advantage is the high speed of installation work, reliability and the possibility of multiple disassembly and assembly.
terms of Use
Working medium t ° -260 + 800 ° C,
Working pressure up to 280 kg / cm 2 .
The operating conditions can be adjusted depending on the material and the type of flanges.
Selection
The choice of length is very important. Using too short or long sleeves increases the risk of breaking or tearing. The length of the sleeve includes neutral sections, otherwise the installation is carried out strictly rectilinearly. Flange connections with flap bolts can be with 8 or with 4 bolts. Proper distribution of the clamping force when tightening the bolts with a zigzag gives a reliable seal. Gaskets made of rubber or fluoroplastic are used.
Buy at a bargain price
LLC «Avek Global» offers the most favorable conditions for the sale of rolled metal. The offered assortment of metal hoses can satisfy any customer. The price depends on the volume of purchase and the additional terms of delivery. By carrying out bulk orders, you can count on the company's flexible discount system. Our managers are always ready to provide advice. A large assortment will not leave you without a choice. The lead time for orders is minimal. All products are certified. Quality is guaranteed by strict observance of all technological norms of production.