Sheet, strip 50N - 50 alloy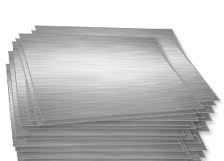 Relevance
The permalloy characterized as iron-Nickel alloys that have relatively high permeability in weak fields. The membership of each alloy to a particular group depends on the degree of shift of the magnetic and electrical properties and quantity of Nickel. Marking 50N indicates that the alloy contains 50% Nickel. Tape and sheet of this steel belong to the category of stainless steel products.
Application
Tape the sheet due to small magnetostriction used in precision instrumentation with stable characteristics in an alternating field. Have small changes in electrical resistance dependent on the strength and direction of the electromagnetic field. Tape, sheet used in the manufacture of transformer plates, elements of magnetic recording heads, in the manufacture of small cores of transformers, chokes, relays, parts of magnetic circuits that operate with the minimum of magnetization at high values of induction.
Buy at best price
In stock LLC «AVEK global» a wide range of precision alloys for the best price. We can find any products for large-scale production. The face of our company determines the high level of service and excellent quality products. On the website LLC «AVEK global» reflects the most current information. Our managers are always happy to help answer questions. Implementation of orders takes minimal time. For wholesale buyers there is a reduced discount. Deliveries go directly from the warehouse. It gives consumers a clear choice of product and significant savings on inventory and facilities.