Nets from non-ferrous metals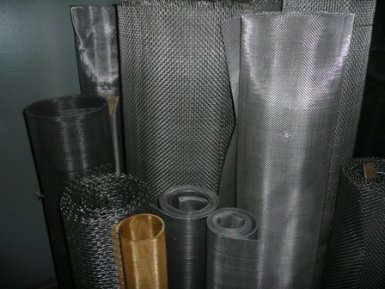 general characteristics
Mesh woven — a universal material used in construction for sifting materials of loose consistency, plastering works. They are used in many branches of industry, agriculture for the filtration of liquid, gaseous substances, the production of conveyor belts.
Use of woven metal cages
— making screens and screens;
— manufacture of filters in the space, aviation, pharmaceutical, automotive, oil and gas industry;
— extraction of minerals, precious metals, purification of clay solutions;
— enrichment of manganese ore;
— production of filters for wells;
— production of such household goods as sieves, cassettes.
Varieties
Differ by the dimensions of the sides of the cells, the diameter of the wire. There are several types of cells:
— square;
— rectangular;
— filter — without cells in the light.
Production
Special automatic metal-loom lathes are used. The warp threads and weft are intertwined with each other at a right angle, forming a canvas. The base runs along the canvas, the ducks are across the canvas. Woven metal mesh is excellent quality, manufactured in accordance with GOST 3826−82 from stainless or low-carbon alloy. The first — higher quality, have increased resistance to rust, and this is important for any application.
Weave types
— Cloth. It is produced by the method of successive plexing of each wire with a weft with a base;
— Twill. Duck wires and warp threads are weaved in two pieces.
Types of wire for production
— special, thermally treated low-carbon galvanized in groups A and C;
— without coating a special layer.
Buy at a bargain price
LLC «Avek Global» offers the most favorable terms of sale. In the warehouse of the company is represented the widest assortment of woven nets. Here you will find exactly what you need. A personal manager will help you make the right choice, answer all questions and find a mutually beneficial solution. Becoming our client, you will get the opportunity to save money and precious time, since our woven mesh can be purchased at a very competitive price. By carrying out bulk orders, you can count on the company's flexible discount system. The lead time for orders is minimal. All products are certified. Quality is guaranteed by strict observance of all technological norms of production.