Seal axial expansion joint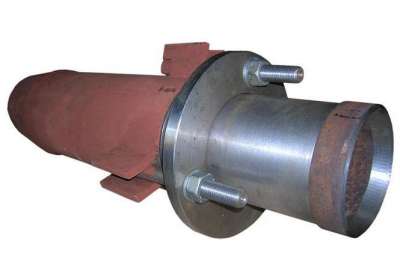 general characteristics
Packing glands — multifunctional devices are used for many years. These are the oldest compensation devices designed to preserve pipeline technology. They were created especially for steam, thermal water networks designed for a pressure of 1.6 MPa — 2.5 MPa, with a maximum vapor temperature of + 300 ° C and water + 200 ° C. Used for underground laying of heating mains or overhead laying on low supports. Facilitate the compensation of angular and linear movements.
Design
This device consists of two steel pipes having different diameters. The smaller of them is inserted into the larger one. The space formed between these pipes is filled with a stuffing box. On the outside are mounted special devices that restrict movement, prevent the loss of the inner tube. Used thick-walled steel pipes, or welded from several types of sheet steel. For gland packing is used heat-resistant rubber, packing marks AP-31, AP.
Varieties of stuffing boxes
— One-sided. They consist of a movable glass and a shell;
— Two-sided. They consist of two moving glasses, the body is elongated.
Advantages of application
It has small dimensions, relatively high compensating power, small hydraulic resistance. Due to their compact dimensions, they are easily placed in the passageways and chambers. To change the stuffing box or covering, the device is placed in the branch chamber of the pipeline or the heat compensating chamber. It is desirable that such expansion joints be used on rectilinear sections having a large diameter. During installation, all safety requirements must be observed. Installation should be done by professionals.
disadvantages
It is not advisable to use this type of device with frequent changes in compensating sizes or at high pressures. When using them, the possibility of leakage of transported products can not be completely ruled out. In this regard, they are not recommended to use and almost never put where aggressive, toxic or expensive products are pumped.
Buy at a bargain price
LLC «Avek Global» offers the most favorable conditions for the sale of rolled metal. The offered assortment of compensators can satisfy any customer. The price depends on the volume of purchase and the additional terms of delivery. By carrying out bulk orders, you can count on the company's flexible discount system. Our managers are always ready to provide advice. A large assortment will not leave you without a choice. The lead time for orders is minimal. All products are certified. Quality is guaranteed by strict observance of all technological norms of production. J