Sheet plate 10X17H13M2T - 1.4571 - aisi 316Ti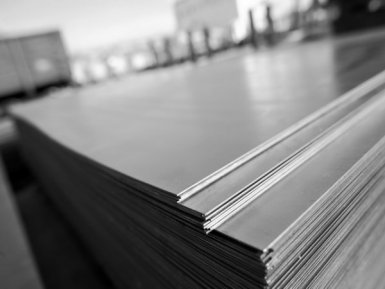 Production
Stainless steel sheet 10H17N13M2T made of extremely corrosion-resistant complex alloyed alloys. Mark 10X17H13M2T (analog AISI 316Ti) contains 17% chromium, carbon, — 0.10%, and Nickel — 13% titanium — up to 0.7%, balance is iron. The doping improves heat resistance and heat resistance, ability to withstand the effects of corrosive environments. At increased requirements to the constructive elements, the sheet is subjected to tempering at 1000 — 1100ºС with further cooling in water or air. Stainless steel rolled sheet is divided into sheet and plate. The quality and method of production it is divided into cold rolled, hot rolled and pickled (or decorative). Sheet is available in any modern Metalworking technology. It is possible to apply the grinding, cutting, polishing, as well as any welding technique. Extensive range of sizes produced sheets can facilitate the selection of the most appropriate of the workpiece.
The percentage composition of the alloy GOST 5632−72
Mark
C
Si
Mo
Cr
Cu
Mn
Ni
Ti
S
P
Fe
10X17H13M2T
≤0,1
0,8
2−3
16−18
≤0.3 mm
≤2
12−14
≤0,7
0,02
0,035
the rest
Application
Sheet 10X17H13M2T is widely used in construction, automotive, petrochemical, gas processing etc. industries. This sheet is a popular material for making window frames, metal railings, fire rated doors, brackets, trim elements, anti-slip coatings. Lately it is increasingly used by designers as a decorative material. Thanks corrosion resistance, high strength and heat resistance of such a sheet to produce a flue pipe and shut-off valve of high temperature installations for the petrochemical industry. Sheet 10X17H13M2T provides a large supply of mechanical strength, long-lasting and trouble-free equipment operation at a temperature of 700−850ºС.
Buy at best price
Sheet 10X17H13M2T brand is widely demanded in the market of metal, due to the low price and large number of variations. Leaf quality is guaranteed by strict observance of technological norms of production. Orders are implemented in the shortest possible time. If you have any questions You can ask for advice from experienced managers. Large range of stainless steel products in stock LLC «AVEK global» allows you to purchase all the necessary products in one place. For wholesale orders the company provides a substantial discount.