VT8 titanium round bar, sheet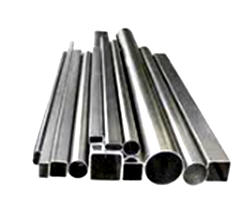 General characteristics
The titanium alloy VT8 refers to the group α+β alloys. Manufactured according to GOST 19807−74, 90013−81 OST. Alloyed aluminum — 6% and 4.5%V. Aluminum is able to consolidate the α+β phase, the vanadium contributes to the stabilization of β-phase, hinders the formation of superstructure alpha-2 in α-phase. Aging and hardening increase the strength level by 15 — 20% while maintaining a fairly high plasticity. It was later proposed modification of alloy VT8−1, ВТ8М-1, ВТ8М. The optimum combination of properties provides a double and isothermal annealing. The content of β — phase in the annealed alloy is 10%. Alloys of this type are hardened thermally.
Titanium alloy VT8
UD. weight
Properties
Melting point
Application
Technology
Of 4.48 g/cm3
A high percentage of aluminum and silicon doping increases the heat resistance and durability in comparison with rafting VT6. Maximum working temp.+480°. Alloy VT8 superior brand brand VT3−1, VT9 ductility, thermal stability manufacturability, fracture toughness.
980−1020°
Details of fixtures, including fans. Drives the blades of the low pressure compressors.
Deformed satisfactorily in a hot condition. Workability during processing pressure lower than VT6. It is not recommended welding.
Manufacture and dignity of titanium pipe brand VT8
Prefabricated
Strength (MPa)
Heat treatment
KCU j/cm3
Plasticity of δ%
VT8 typical properties
1080
Annealing
---
12%
VT8 pipe hot
More than 950
Annealing
More than 30
More than 6%
1050
Delivery condition
55
10,5%
1100
950°, 1 hour to 570° 1 h, air
58
9.5% of
1030
920°, 1 hour to 600° for 1 h, air
62
9.7% of
The use of tube VT8
Titanium pipe is widely demanded by modern industry, but most often it is used in chemical industry, oil and gas industry, because it has a high anti-corrosion properties and chemical inertness. Pipe brand VT8 biologically inert, thanks to their use in medicine, pharmaceuticals, and their namagnichennosti significant advantages when mounting in electrical engineering.
Buy at best price
To see more details with the products, specify its basic properties, place your order, you can call the nearest office of our company «AVEK global», which specializiruetsya the sale of heat-resistant and stainless steel alloys. We offer titanium alloys from warehouses in Ukraine and Russia delivery on the CIS and abroad. All products are certified and available. The timing of orders is minimal. If you have any questions, you will receive detailed advice from experienced managers. For wholesale orders the company provides flexible system of discounts.