37KH12N8G8MFB - эи481 sheet, round, wire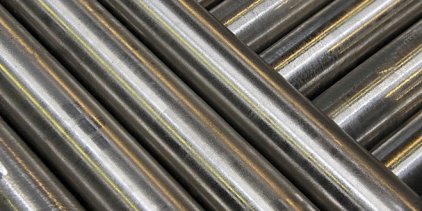 Production
Steel 37KH12N8G8MFB-sh (ЭИ481-W) — one of complexly alloyed heat-resistant alloy, which contains 12% chromium, 8% manganese and Nickel, 0.37 percent carbon, up to 1.5% vanadium and molybdenum, up to 0.5% of niobium, as well as additives of phosphorus and sulfur — hundredths of a percent. The base is iron. The purpose of alloying is to increase the qualities of heat resistance and heat resistance ability, resistance to aggressive environments. Steel production is carried out in an open arc furnace. Circle of steel ХН68ВКТЮ-VI produced hot-rolled method and by using calibration — to make products precise outer diameter.
Chemical composition
Alloy
C
Si
V
Cr
Cu
Mn
Ni
Mo
S
P
Nb
37KH12N8G8MFB
0,34−0,4
0,3−0,8
Of 1.25−1.5
11−13
0,3
7,5−9,5
7−9
1,25−1,4
0,03
0,035
0,25−0,45
Technological processing
Rent of semi-finished products produced at a temperature of 1170 °C at the beginning of the process and 850 °C for its completion. Steel after deformation cooled. In accordance with the first mode is cooled in water, oil or air, and according to the second mode — the cooling is with water, followed by aging products for 4−4. 5 hours. Welding is carried out with the help of electrodes KTI-762.
Use
High-temperature pipe and round 37KH12N8G8MFB-sh are used in power engineering industry (manufacture of machinery and equipment for power) in the pulp and paper industry and in industrial chemistry. From pipes made transitions and fittings required for installation. They are designed to operate at a temperature of about 1050 °C. Stitches in this case, should have the same requirements for heat resistance and heat resistance that not only depends on the choice of welding materials and modes of welding and heat treatment at the end of the process.
Buy at best price
The company «AVEK global» specializiruetsya the sale of heat-resistant and stainless steel alloys. We offer metal stamps 37KH12N8G8MFB-sh from warehouses in Russia and Ukraine with delivery to any region. All products available in stock, certified. The timing of orders is minimal. If necessary, you will receive detailed advice from experienced managers. For wholesale orders the company provides a substantial discount.