Foil brass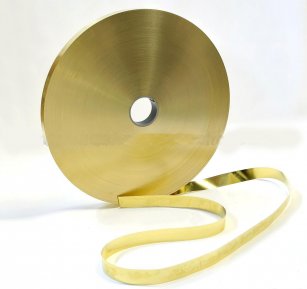 general characteristics
Foil is a thin, very flexible sheet of metal, with a thickness of a fraction of a millimeter. From brass it is rolled cold, supplied with rolls. Hot rolling is not used, because when heated, brass loses its plasticity. Foil made of brass is widely used not only as a decorative coating, but also used in electrical engineering.
Manufacturing
A two-component alloy consisting of copper and zinc is used. The amount of zinc can reach 36%. The manufacture of this type of rolling products is regulated by the State Standards. The most basic of them is GOST 2208−91. The length of the foil is not regulated in any way, and its thickness should be in the range of 0.08 mm to 3 mm. The width can range from 10 cm to 60 cm.
Varieties
It is made of various alloys: LS59−1, Л63, Л68, Л90, etc. Brass foil, which is made of the last alloys has sufficient hardness. According to the state of the material, the foil is divided into a soft, semi-solid, hard, and super-hard foil. The chemical composition of the foil is regulated by GOST 15527 .
Brass L63
Main Components
Pb%
Fe%
P%
Sb and Bi
Cu
Zn
62−65%
34.22−37.5%
0.07%
0.2%
0.01%
0.005% and 0.002%
Brass L90
Main Components
Pb%
Fe%
P%
Sb and Bi
Cu
Zn
88−91%
8.8−12%
0.03%
0.1%
0.01%
0.005% and 0.002%
In production, it is possible to obtain a foil with predetermined properties. Antimagnetic foil — very flexible, has increased accuracy at the ends and sickle-shaped. There is a foil with a certain depth of extrusion and one that is designed to make any stamped parts.
Advantages
Plasticity, good electrical, thermal conductivity, excellent anticorrosive properties, durability. Resistance to atmospheric precipitation, the action of fresh, sea water. Well resists the action of chemicals.
Application
Decoration, decoration of premises, stained-glass windows, manufacturing of various signboards and tablets. Widely used in the electrical, radio, telecommunications industry. Thick brass foil is used in the automotive industry. For example, in the manufacture of parts of the cooling system of cars at the Volga Automobile Plant.
Buy at a bargain price
The company Avek Global LLC sells non-ferrous alloys on favorable terms. The price is due to technological features of production without the inclusion of additional costs. The warehouse has the widest range of products for large-scale production. We also have attractive conditions for retail customers. The company's website displays all information about the goods, there is a catalog of products and price lists. Find us easily on the Internet at avglob.org. We are waiting for your orders.