Axial expansion joint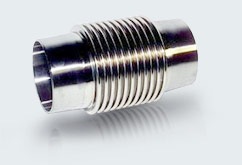 general characteristics
Axial expansion joints for welding are unremovable products. Their maximum service life is 30 years, during which they do not require maintenance. Virtually all varieties are made with the presence of special welded fittings. The only exceptions are rubber types. The material for manufacturing the connection branch pipe is selected depending on the type of device and its intended use. The nozzle can be made of galvanized steel, stainless steel, st. 20, as well as from special alloys on customer's request.
Relevance
On straight sections of pipelines to compensate for thermal expansion, correct inaccuracies in mounting. When the temperature changes, the pipeline shifts, which can cause ruptures. The compensator performs a protective function, assuming the entire displacement load. Long-term experience shows that these devices are in many ways superior to other varieties of compensators. In addition to performing the basic tasks, they help reduce the cost of construction and operation of heating networks, reduces the loss of thermal energy.
Main settings
— conditional through diameter;
— operating temperature, which experts use to calculate the magnitude of the working stroke;
— the maximum permissible pressure;
— the value of the target working stroke;
— type and material of connecting fittings.
Performed functions
— reduction of system capacity;
— Preservation of the values of its target parameters under the influence of temperature differences, mechanical vibrations;
— Improving the layout of the pipeline system;
— reduction of total metal consumption;
— increase in the service life of serviced mechanisms and units;
— compensation of the test and maximum operating pressure to which the pipeline is subjected.
Using
Pipeline systems of water-heating, pumping installations, heating networks, heat points and other similar structures. This type of device can be used for the following environments: water, oil products, gas, steam, sea water, cryogenic products. The maximum working medium pressure should not exceed 125 kg / cm 2. Operating temperature range -200 ° C + 500 ° C. Depending on the conditions of use of the compensator, a special hydro-protective anticorrosion coating can be applied to its outer surface, casings, connecting fittings.
Buy at a bargain price
LLC «Avek Global» offers the most favorable conditions for the implementation of an axial compensator for welding. The offered assortment of compensators can satisfy any customer. The price depends on the volume of purchase and the additional terms of delivery. By carrying out bulk orders, you can count on the company's flexible discount system. Our managers are always ready to provide advice. A large assortment will not leave you without a choice. The lead time for orders is minimal. All products are certified. Quality is guaranteed by strict observance of all technological norms of production.