20Х23Н13 - 1.4833 - aisi 309 pipe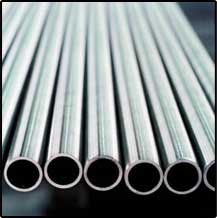 Relevance
Steel 20Х23Н13 is one of the marks of high-alloy heat-resistant steel used for parts operating in lightly state at high temperatures 900−1000°C. This brand belongs to the group of austenitic-ferritic alloys. In comparison with austenitic — steel 20Х23Н13 has a high reliability and resistance to intergranular corrosion and to stress corrosion cracking in alkaline and chloride environments. When welding structures require pre-heating parts to a temperature of 100−120°C, final heat treatment seams.
Composition
Stainless pipe brand 20Х23Н13 in its composition contains 12−15% Nickel and about 22−25% chromium. In addition, the composition includes a titanium — 0.2%, manganese — 2%, phosphorus, sulfur — thousandths of a percent. Doping contributes to improve the heat resistance and gives the opportunity to manufacture components to the power type. This steel has the balanced qualities of heat resistance and heat resistance, whereby so popular.
Percentage composition
| Mark | C | Si | Mn | Ni | Cr | Cu | P | S | Ti | Fe |
| --- | --- | --- | --- | --- | --- | --- | --- | --- | --- | --- |
| 20Х23Н13 | ≤0,02 | ≤1 | ≤2 | 12−15 | 22−25 | ≤0.3 mm | ≤0,035 | ≤0,025 | ≤0,2 | The rest |
Production
Pipes can be made seamless — seamless, and welded — welded. Depending on the type of surface, there are pipe mirror (polished), polished or matte. The circle is usually stamped by a certain predetermined shape. Forgings of round can be applied as an intermediate preform for different products.
Welding
Welding is carried out by all ways. In the process of automatic submerged arc welding an-26 and an-18 and argon-arc welding electrodes are used with wire rod St-05Х20Н9ФБС SV-08Х19Н10Б SV-06Х21Н7БТ and SV-04Х22Н10БТ; for manual welding electrodes EA-1Ф2 brand TSL-2Б2, EA-606/11, GL-2 with wire rod St-08Х19Н9Ф2С2 SV-05Х19Н9ФЗС2 and SV-05Х19Н9ФЗС2. Shielding gas wire rod SV-08Х20Н9С2БТЮ used for automatic manual welding.
The electrodes of CL-11 and 9 with wire rod SV-07CR25NI13 SV-07Х19Н10Б respectively used in manual electric arc welding. Control at AMU and AM GOST 6032−89 no specifically triggers the heating electrodes attach to the weld resistance to intergranular and General corrosion in nitric acid (65%) at a temperature of 70−80°C. However, the weld seams can be inclined to stab corrosion. The weld seams obtained with electrodes of CL-11 and 9, respectively, are: KCU=80 and 70 j/cm2; σв=550 and 600 N/mm2; δ=22 and 2%.
Application
Pipe brand 20Х23Н13 used in food, medical industry, construction, petrochemical, chemical, shipbuilding industry, metallurgy, aviation, etc. These tubes are resistant to aggressive environment and thanks to the Nickel and chromium surface can regenerate itself if minor damage. Pipe brand 20Х23Н13 do not need a long time to replace and minimize their maintenance, staining is not needed.
Buy at best price
The company «AVEK global» sells metal products from stainless steel alloys at an affordable price. Stock a wide range of products, including brand 02Н18К9М5Т-ID in unlimited quantities. We offer favorable conditions for wholesale and retail customers. On our website You will find the necessary information. Our consultants are always ready to answer your questions. The price depends on order volume and additional conditions of delivery. Implementation of orders in the shortest possible time. Wholesale customers enjoy significant discounts.