Brass hexagon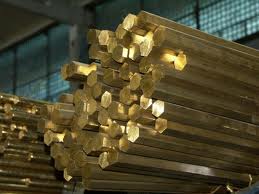 Production
Brass hexagons are made according to GOST 2060−2006 of the brands: LS59−1, L63 (chem. composition — GOST 15527−2004). Control of chemical composition — GOST 24231−80. Share hot and cold hexagons. The first should correspond to GOST 2879−88, cold — GOST 8560−78.
Assortment
Hexagons can be high, high and normal precision. As material are distinguished: soft, hard, semi-hard. Along the length there are products lengths — MD, ND — random, KD — multiple of gauging length. Additional qualities isolated hexagons: anti-magnetic (AM), improved ductility soft (L), semi-solid improved ductility (f), solid high plasticity (), pressed normal plasticity ©, improved ductility extruded ©. Winding bays is free or ordered layer-by-layer. In the first case, marked with — BT, the second — BU.
Application
Mechanical engineering, electrical engineering, shipbuilding, hydropower, petrochemicals, agro-processing, machine tools. The hexagon serves as a workpiece for the manufacture of nuts, bolts, various designs, matrices and other equipment.
Diameter, mm
Unit
Price.
Brass hexagon Л6З soft, solid, semisolid
1O, 12,14,16,18,2 OH, 22,24, ZO, Z2
kg.
By appointment
Hexagon brass LS59−1 soft, hard, semi-hard
8,1 O, 12,16,2 About, 24, ZO, Z2, З4, P6,4O
kg
By appointment
Dignity
Excellent wear resistance, heat conductivity, ductility, corrosion resistance, workability. Hexagon is easy to various kinds of processing and installation of both cold and hot conditions. It is not expensive, can be used after recycling again. All this contributes to the popularity of this product.
Disadvantages
Brass is the most durable and heat-resistant material when compared with other alloys. Xia that the material is not the most durable and heat resistant when compared with other alloys.
Marking
According to the method of production
Accuracy
Length
Special conditions of manufacturing
As material

G gorazadevac-murovannyy

D round steel bars (headnode.)

P increased;

N normal;

In high

KD dimensional;

ND random

BT bays.

AM antimagnetic hexagon,

AV automatic hexagon,

N soft, high plasticity,

On with cut ends,

R semi-high plasticity,

With pressed normal plasticity;

Solid improved ductility,

T extruded high plasticity.

N semi-solid,

M soft (annealed)

T solid.
Buy at best price
To see more details with the products, to clarify its basic qualities, place your order, you can through the website of our company LLC «AVEK global», which specializiruetsya on the supply of non-ferrous alloys. We offer products from warehouses in Ukraine and Russia with delivery to any region of the CIS and abroad. All products are certified. The timing of orders is minimal. For any questions, you are always ready to advise experienced managers. For wholesale orders there is a reduced discount.