Babbit B16 - Durite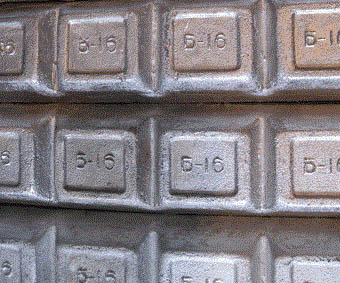 Characteristics of babbit B16
Babbit — an antifriction bearing fusible alloy of antimony with tin and copper, or of antimony, lead, copper and tin, or an alloy based on aluminum and zinc. Antifriction property gives them structure heterogenous — solid particles which serve as supports for bearings, enclosed in a soft core of lead or tin. This will give a uniform fit and pererabatyvaemogo bearings to shafts, small friction and wear resistance. Manufacturer — pig. Brand: B-88, B-16, bn, B-83.
Advantages of babbit B16
solids — optimization antifriction qualities;
low melting temperature (from 240 to 320°C);
special fusible bearing metal;
the calculation of the large operating temperatures;
increased flexibility when working in 100 °C;
speed spins — 60 m/sec;
load: 150 kgf/cm2 (static), 500 kgf/cm2*sec (dynamic);
the coefficient of friction is 0.25 (without lubricant) 0,006 (with lubrication);
the thickness of the fill is greater than 0.99 mm.
operating temperature 110 °C above zero;
Disadvantages of babbit B16
increased fragility (at room temperature);
TRISTANIA and chipping (in case of shock and vibration).
Manufacture of babbit B16
the pig (primary material);
modern technologies according to GOST 1209−90;
chem.composition — surmai tin (15−17%)
The use of babbit B16
motor-axial bearings of locomotive, locomotive, steamship
bearings turbine;
crackable, remove and crank bearings;
rolling mill bearings, ball and tube mills, crusher;
casting of bearing steam turbines, hydraulic turbines, ship and stationary steam engine, compressor, hoist, electric motor and generator.
Material composition (%)
Grade
Fe
As
Al
Pb
Cu
Sb
Zn
Sn
Bi
B16
≤0.1
≤0.3 mm
≤0.01
from 63.34 to 68.5
from 1.5 to 2
from 15 to 17
≤0.15
from 15 to 17
≤0.1
Buy B16 at the best price
In warehouses of LLC «AVEK global»:
the availability of a wide range and large selection of products;
order and purchase through the offices;
ordering and buying through the Internet site;
guaranteed quality;
full compliance with technological standards of production of babbit;
minimum production time;
the dependence of the price on order volume and additional conditions of delivery;
a flexible system of discounts for wholesale orders.