Wire KHN65MV - эп567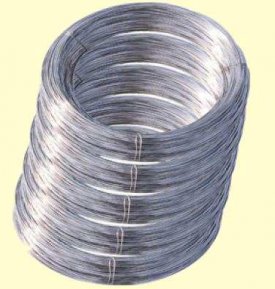 General characteristics
Nickel-chromium alloys, including steel brand KHN65MV, intended for the production of parts that operate at high temperature (but not above 850ºС) in aggressive chemical environments. Due to the high content of Nickel and chromium, mechanisms and parts made from this alloy have high corrosion resistance, providing increased reliability of the equipment. Such properties of the alloy as malleability and ductility — provide processing advantages.
Chem.the composition of the steel is regulated by GOST 5632−72. The alloy is melted in open electric furnaces, which ensures a minimum content of various harmful impurities.
Chemical composition KHN65MV
Ni
Mo
Cr
W
Fe
Mn
Si
With
P
S
59,8−67,5
15−17
14,5−16,5
3−4,5
to 1
to 1
to 0.15
0,03
0,015
0,012
Basic properties
The coefficient of linear expansion of 13.7 (1/deg K). Density = 8.9 g/cm3. Mechanical properties of the wire change depending on the temperature. In the range of 20 — 800ºС the resistance of the wire load is maximum. coefficient of thermal conductivity in the range 20 — 100 º C = 0,126 • 102 W/(m • K). Thanks to its balanced chemical composition, rods and wire have good weldability, which allows a variety of designs without the use of sophisticated equipment and without additional heat treatment after welding. The surface of the wire is not susceptible to oxidation during long-term operation and high temperature. This wire is plastic, which makes it popular in the manufacture of domestic and industrial appliances. It is resistant to oxidizing atmosphere, to an atmosphere of ammonia and nitrogen. However, its main drawback is that the wire has no resistance in the atmosphere of sulfur compounds and sulfur. It has a high cost, because of the high cost of the main components — Nickel.
Use
Wire brand KHN65MV is in great demand in heaters industrial electric furnaces — in furnaces, drying and calcination, electric furnaces, heating effect, as well as in household appliances. Wire brand KHN65MV used in the rheostat and resistor elements, as well as in the manufacture of soldering irons and vacuum devices elements of high reliability. It can also be used as a cutting and a heating element in thermal packaging knives, industrial and domestic with hot-air heating and water heating systems. Due to corrosion resistance, the wire KHN65MV used in certain aggressive environments as a chemically resistant alloy, for example, in petrochemical engineering.
Buy at best price
The company «AVEK global» sells various brands of heat-resistant wires on favorable terms. Price due to the technological features of production without additional costs. The warehouse contains the widest choice of products for large-scale production. We offer attractive terms and conditions for retail customers. On the company's site displays the full information about goods. All products are certified. The timing of orders is minimal. For wholesale orders the company provides a substantial discount.