10H17N13M3T - эи432 wire, round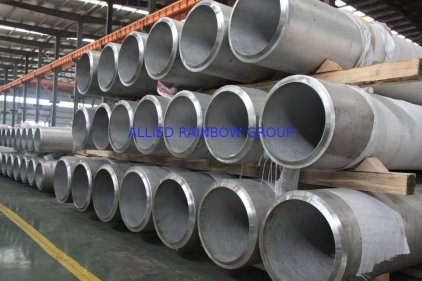 General characteristics
Brand 10H17N13M3T (ЭИ432) refers to the type of high-alloyed alloys of the austenitic class. Used in the manufacture of welded equipment for the synthesis of phosphoric, acetic acids, mineral fertilizers. Alloy inert at temperatures up to 100 °C in 50% NaOH solution. It is difficult to replace in the apparatus for the synthesis of ethanolamines. Has a high resistance to intergranular corrosion of the base metal and welds in corrosive environments. Chem. the composition of the alloy 10H17N13M3T
| Fe | Cr | C | Mn | P | Ni | Mo | S | Ti | Si |
| --- | --- | --- | --- | --- | --- | --- | --- | --- | --- |
| DOS. | From 16 to 18 | ≤0,1 | ≤2 | ≤0,035 | From 12 to 14 | From 3 to 4 | ≤0,02 | 5·S-0,7 | ≤0,8 |
Manufacturer
Is smelted in an electric arc furnace. Classified as stainless steel, corrosion-resistant, plain, heat-resistant austenitic steel. It meets the strict requirements of the state standard. Made the following types of rentals: circle, tube, wire, sheet, strip according to the following GOST: 18907−73; 5632−72; 18143−72; 5949−75; 25054−81; 7350−77; 9941−81; 9940−81.
Physical properties at 20°C
· The thermal conductivity is 0,147 · 102 W/(m · K)
· Density 7.8 g/cm3
· Modulus of elasticity of 17.8 · 10 — 4 N/mm2
· Hardness — HB 200 MPa -1
· Resistivity 0.75 Omhm2/m
· The magnetic permeability in a field of 500 OE at the temperature. 20 °C равна1,255 micro Tesla/m
· Specific heat is 0,504 · 103 j/(kg · K).
Treatment
In forging, rolling and forging in the initial stage of the technological process temperature range equal to 1170 °C, and at the end of the process it is 900 °C. This steel can easily resist cutting. It is welded with manual, gas, electric arc and automatic welding. In the arc welding process uses electrodes EA-400/10U, NIAT-1, VAW-13; for automatic welding — wire SV-04Х19Н11 or SV-06Х19Н10МЗТ fluxes ANF-14, an-26, ANF-6. To protect the welds, apply a final heat treatment.
Use
The manufacture of welded equipment for solutions with increased aggressiveness, for the synthesis of mineral fertilizers, ethanolamines, etc. environments of increased aggressiveness at t° to 80 °C. is Used for the production of welding wire and welding electrodes, demand for connections of fittings, joints in pipelines, repair of equipment that operates in a radioactive environment.
Buy at best price
The company «AVEK global» sells heat-resistant and stainless Slavina favorable terms. Price due to the technological features of production without the inclusion of additional costs. The warehouse contains the widest choice of products for large-scale production. We offer attractive terms and conditions for retail customers. On the website of the company displayed all the information about the products, have product catalog and price lists. Find us easily on the Internet at avglob.org. Waiting for your orders.