Sheet KHN78T - ЭИ435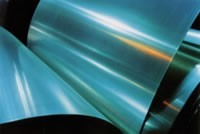 Relevance
Nowadays, the stainless steel sheet on iron-based brand KHN78T is one of the most popular materials stainless steel and excellent construction material. Such a sheet has high mechanical strength, heat resistance and heat resistance, corrosion resistance to soil and atmospheric moisture. Sheet is resistant to many corrosive environments, including hot solutions of concentrated acids and alkalis. It also has a high modulus of elasticity and low coefficient of thermal expansion and can work during heating up to 1100 °C. Strength, durability and reliability make it very popular in most industries. However, technology is capricious and costly alloying additives such as molybdenum and titanium increase the cost of this sheet. In addition, all the alloys having their basis in Nickel, unstable in sulfur environments.
The chemical composition of the sheet KHN78T (in percent)
Ni
Fe
Cr
Ti
Mn
Si
P
With
S
70,003-to 80.85
to 6
19−22
0,15−0,35
to 0.7
to 0.8
0,015
to 0.12
0,012
The mechanical properties of the sheet KHN78T at a temperature of 20°C
— The ultimate short-term strength from 590 MPa to 880 (depending on the settings sheet);
— at break of sheet elongation is not more than 40%;
— residual deformation for the yield strength of the sheet is changed Minimum value — at 800 °C is 98 MPa, while the temperature increases to 1100 °C it increases to 105 MPa;
— relative narrowing of not more than 50%;
— heat treatment is carried out at a temperature of 980 °C — 1100 °C. the recommended method of quenching in air or in water.
The physical properties of the sheet of stamps KHN78T at t° =100°C
— temperature coefficient or linear expansion is 12.2 [1/Deg];
— modulus of elasticity equal of 2.19 MPa;
— coefficient of thermal conductivity or the heat capacity of the alloy is not more than 14.6 W/(m·deg);
— the density of the alloy is of 8.38 g/cm3, and when the temperature varies slightly;
the resistivity is equal to 1.1 Omhm2/m.
Application
Sheets of this alloy are divided into hot-rolled (thickness 1 — 30mm), cold rolled (thickness 1 mm). Sheet steel KHN78T used in energy, construction, engineering, oil and gas, chemical industry, food industry and instrumental in medicine. Such sheets are difficult to replace in the manufacture of welded structures operating in a radioactive environment. Products that are made from stainless steel sheet KHN78T, provide strength, reliability and durability various designs.
Buy at best price
Large assortment of rolled stainless steel in stock LLC «AVEK global» will satisfy any customer. Supply a sheet of stamps KHN78T standard and custom sizes in retail and wholesale. All the party goods have the quality certificate on conformity to requirements of standards and technical conditions. The quality of the finished product is ensured absolute compliance with all technological norms of production. Our site has the latest information, offers experienced consultants who will always help You with the selection of products. Terms of delivery — minimum. For wholesale orders there is a reduced discount.