Rolled aluminum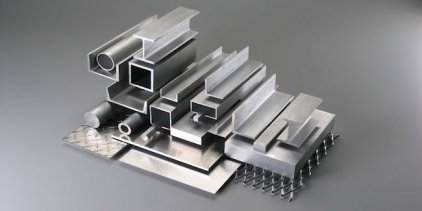 Relevance
Aluminium along with the bonze and iron occupies the first ranks in terms of popularity. At the moment, it is second only to steel alloys. The modern world — the world of transport and electrical engineering is impossible to imagine without this metal, which in the last century was nicknamed the winged.
Dignity
This matte light gray metal, which is perfectly treatable. It is flexible and lightweight. Oxide film on the surface, gives corrosion resistance. This is practically the most suitable material for design — it looks very aesthetically pleasing in any combination of materials. It is absolutely not toxic and has high conductivity. For versatility and low cost it surpasses steel:
— it is lighter than steel,
— more technological,
— in the alloy with silicon and magnesium has a unique resistance even in sea water.
Disadvantages:
The disadvantage is the fact that in strength he is inferior to other metals.
Application
Manufactured tires, wire, strip, sheet, plate, foil, round, profile, pipe, etc. products. Lightness, resistance to corrosion and adaptability make it indispensable in the transport engineering. Popularity in the food industry, justified by its toxicity. High conductivity makes it critically important in electronics. In the domestic sphere and in construction, especially in interior design it is used so often due to the aesthetic appeal, ease, cheapness and adaptability.
Aluminum Bicycle
| Name products | GOST | Additional information |
| --- | --- | --- |
| Aluminum tape | 13726−97 | made from aluminium A5, A6, A7, A0, AD0, AD, AD1, AD00; alloys AB, Amg2, Amg3, AMg5, AMg6, AMC, AMCs, MM, D1, D12, D16, D16T, etc. |
| Aluminum and duralumin profile and round pipe | 23697, 192096, 18482, 18475 | pipe duralumin b65, d1, d16, d16t, etc. |
| Area aluminum | 22233−93 | aluminum alloys AD31, АД31Т1, АД31Т5 D16, D16T (d16t), etc. |
| Aluminum strip with a polymer powder coating or anodized | 22233−93, 8617−81 | alloys of aluminium АД31Т5, АД31Т1, AD31, and others. |
| Wire of aluminium | 7871−75 | overhead transmission lines, electrical |
| Wire aluminum new | 14838−78 | welding |
| Aluminum wire | 7871−75 | for cold heading |
| Aluminum tire | 15176−89 | rectangular extruded aluminium busbars used in electrical industry |
| Aluminum sheet | 21631−76 | aluminum sheet for General use, checkered plate, perforated sheet and corrugated sheets «quintet» |
| Aluminum, duralumin plate | 17232−99 | high or normal accuracy in thickness and with different treatment |
| Aluminum round | 21488−97 | of aluminum alloys and anodized aluminum |
| Aluminum box | 23697, 192096, 18482, 18475 | rectangular and square based on aluminum profile pipe |
| Profile aluminum | 22233−2001, 8617−81 | aluminum alloy |
| Aluminum channel | 22233−93 | alloys of aluminium АД31Т5, АД31Т4, АД31Т1, АД31Т, AD31 |
| Aluminum t | 22233−93 | aluminium profiles (I-beam) single and beam made of alloys AD31 and 1915. |
Buy at best price
To see more details with the products, to clarify its basic qualities, place your order, you can through the website of our company LLC «AVEK global», which specializiruetsya on the supply of non-ferrous alloys. We offer products from warehouses in Ukraine and Russia with delivery to any region of the CIS. All products are certified. The timing of orders is minimal. For any questions, you are always ready to advise experienced managers. For wholesale orders there is a reduced discount.