Maraging 250® - 1.6359 sheet, round, wire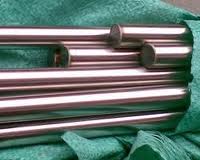 UNS K92890 — 250 Maraging/ Vascomax C 250™ /C Maraging 250
Shopping common names: Maraging C25™, Vascomax 250™. The alloy produced by vacuum arc or vacuum induction melting. It is a Nickel-cobalt-molybdenum, low carbon alloy. The feature of alloy is its high yield strength at moderate temperatures, more than 1655 MPa. The Maraging 250 alloy at high strength levels has good ductility and weldability. This is one of the alloys the family of Nickel «partenitskaya» steels (including Maraging 350™ and 300™) that is able to reach in a temperature range of 450 — 510 °C very high tensile strength. Available forms of rolled products are circle, welded and seamless pipe, wire, plate, sheet, fittings, flanges and forgings.
The chemical composition of Maraging alloy 250
P
Mn
C
S
Ni
Cr
Si
Mo
Cb+Ta
Co
Cu
Ti
In
Fe
Al
Zr
0,01
0,1
0,03
0,01
18,5
0,1
4,8
7,5
0,4
0,004
0,1
0,01
Buy at best price
Get acquainted with the products, to clarify its basic qualities, place your order, you can through the nearest office of the company «AVEK global», which specializiruetsya on the supply of heat resistant and stainless steel alloys. We offer products from warehouses in Ukraine and in Russia with delivery to any region of the CIS. All products are certified and available. The order execution time is the shortest. If you have any questions, you will receive detailed advice from experienced managers. For wholesale orders the company provides flexible discounts.