Round, wire, pipe CuNi10 - 25 Alloy - C70600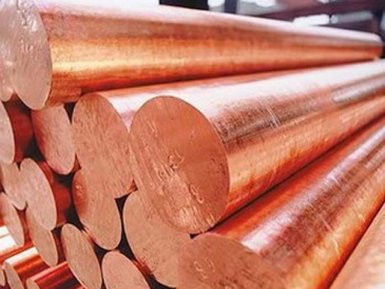 Do you want to buy a pipe, a circle, a CuNi10 alloy wire (Alloy 25, C71600) from a supplier — AvecGlob Company? Here you will find the necessary information on these alloys
Company Avecglobal sells at affordable prices volume rolling (circle, pipe, wire), made of copper-nickel alloy grade CuNi10 (other names — Alloy 25, C71600). The supplier guarantees the timely delivery of products to any address specified by the consumer.
Composition and application
CuNi10 (Alloy 25, C71600) belongs to the group of copper-nickel alloys, which demonstrate excellent resistance to impact. The presence of iron and manganese provides the alloy with good corrosion resistance.
Some of the main applications for this alloy include copper nickel fittings, as well as condensers and heat exchanger casings. This alloy is used to produce marine condenser plants in place of aluminum brass, especially where higher water velocities occur.
Non-magnetic alloy CuNi10 (Alloy 25, C71600) is often used for the production of electrical resistance elements, it has good indicators of ductility, including, in the cold state.
The recommended application temperature for products made from this alloy should not exceed 250 ° C.
Other applications: in the automotive industry — manufacture of power steering amplifiers, brake lines, in electrical engineering — screw caps of incandescent lamps, in industry — condenser plates, condensers, welded tips, heat exchanger tubes, valve bodies, evaporative tubes, flanges, pressure vessels, distillation pipes, impellers of pumps for pumping petroleum products, evaporative plants. In the marine business of the alloy CuNi10 (Alloy 25, C71600), ship and boat hulls, salt water fittings, water pipes, tanks, partitions and sealing structures are produced.
Chemical composition of the alloy:
Nickel — up to 10%;
Impurities (manganese, iron) — no more than 1,0… 1,2%;
Copper is the rest.
Buy a cost-effective circle, wire or pipe, which are made of alloy CuNi10 (Alloy 25, C71600), offers the company AvekGlob. The Supplier organizes an operative delivery of sheet steel to any point set by the client.
Properties
Basic physical properties of the alloy:
Density, kg / m 3 — 8900;
Melting point, 0 С — 1050… 1100;
The coefficient of thermal expansion in the temperature range 20… 400 0 С, μm / deg — 17,5;
Specific heat capacity, J / kggrad — 380;
Coefficient of thermal conductivity, W / mgrad — 59.
Basic mechanical characteristics of the alloy:
The limit of time resistance. MPa — 290;
Yield strength, MPa — 130;
Elongation at elongation. % — 25
The alloy is not recommended for manufacturing products that operate in an atmosphere containing sulfur and hydrocarbons.
AvekGlob company offers to purchase different volume rolling — circle, wire or pipe — made of CuNi10 alloy (Alloy 25, C71600). The Supplier organizes the immediate delivery of products to any point agreed by the customer.