Prices for Stainless steel bars - buy vygodngo in Ukraine, the company Avek Global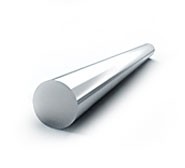 Topicality
Rod is a product of circular cross-section of different diameter hot-rolled or cold-rolled steel. High-alloy stainless rod can resist corrosion in the most demanding process conditions. It is distinguished by the strength, durability, heat resistance, resistance to various aggressive environments, adverse effects of atmospheric and soil moisture.
Classification
Based on current standards, divided into cold-drawn bars, cold rolled, hot rolled. The latter has a dark color. The surface of the request may be specially treated («silver»). By rolling precision is high class products — A higher — B, special accuracy — V. The length can be dimensional, Random length and Multiple gauge.
Steel grade
Used in the production of brands such as — 10H17N13M2T, 20H23N18, 12Cr18Ni10Ti 14H17N2, 40X13, 08H18N10T, 20X13. Bars and rods of stainless steel 12X18H10T, are widely used in paper, textile, pharmaceutical, food and chemical industries.
Application
Food processing, chemical industry. Produce parts and components for the aerospace, automotive, mechanical engineering, ship-building. In addition — the construction, architecture and design.
Delivery
Stainless steel rod Ø 9 mm, deliver the windings, and a thick — in bars. The standard length of 2 — 12 m rods, hot-rolled produced random length from 0.5 to 4.9 m high, normal, and high precision, their Ø = 5 — 270 mm, «silver» in the lubricant supply, packed in boxes or bags and wrapped in several layers of waterproof paper.
Delivery form
Thickness
Diameter
Length
Width
Circle
10−250 mm
1 — 6 meters
Wire
0,1−16,0 mm
in the Bay
Buy at a bargain price
Large range of stainless steel rod stock LLC «Avek Global» can satisfy any consumer. The quality of the finished product is ensured strict compliance with all technological norms of production. Terms of execution of orders soon. If you have questions, you will receive detailed advice from experienced managers. For wholesale orders, the company is practicing flexible system of discounts.