The strip of brass stock company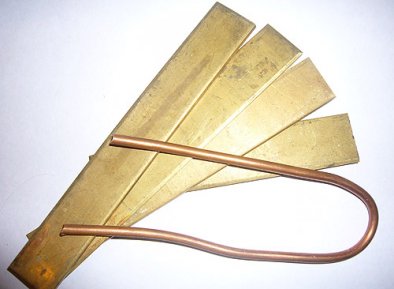 General Characteristics
The strip of brass or as it is called, is made of brass summer deformed alloys. For production use a different composition which may be a two-component and multi-component of several metals. The most common method of cold-rolled strip so as brass has a remarkable smoothness and viscosity. To avoid internal stress of the material during cold working, the strip is subjected to final annealing. They were slowly heated to 220−240 ° C and then cooled.
The quality requirements
Brass band made of special alloys with various additives. Norman GOST parameters are set. For example, the maximum length of the brass strip should not exceed two meters. The tape itself should not have external defects and micro-cracks, potholes. If they are present, align the surface, but if the area of damage exceeds 4 m. cm per 20 cm of length of the lot is rejected. Also according to GOST brass band regardless of the alloy used is divided into a soft, solid, semi-solid and very strong. When cutting the strip at certain sizes, the edges must be cut at right angles. Bending along the sides of the strip should not life more than 1 cm per meter.
Tests
The material must withstand a pressure of 30 — 35 kg / mm. m. When tested for tensile rupture should not be more than 5%. Metal grains must be within 0.02 — 0.09 mm. Another type of test is cutting round holes in the strip and stretch from the resulting mug brass caps or cups. When they pulled out of the machine of the marriage shall not exceed 1%.
Buy at a bargain price
The company «Avek Global» sells alloys non-ferrous metals on favorable terms. Price is due to the technological features of production without the inclusion of additional costs. In stock represented a wide range of products for large-scale productions. We have an attractive environment for retail customers. On the Web site displays all information about the goods, there is a directory of products and price lists. Find us easily on the Internet at avglob.org. We are waiting for your orders.