ROSE tungsten alloy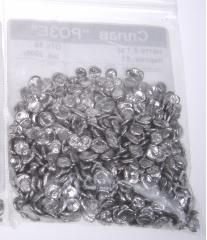 Feature alloy ROSE
Rose alloy is an alloy of low-melting metals, with granules of silver. It was received by the German chemist Valentin rose senior. The pour point of 93° — 96 °C, the melting point of the alloy +94°C. Alloy rose contains in its composition of bismuth 50%, tin 18%, and lead 32%. This alloy is highly susceptible to melting in boiling water. The properties of the alloy rose alloy is practically identical to wood, but differs only at the toxicity because it does not contain cadmium in its composition.
The use and production of
Alloy rose is produced in bars of size 10x12x250mm, pellets, and ingots on the basis of technical requirements 6−09−4065−88. It is used in the form of special stamps DEDICATED to the solder-50 to the solder contacts, which are sensitive to overheating, and also for brazing copper alloy and aluminium to copper, aluminum electric fuses and semiconductor technology. It is also used in tinning and soldering of copper and alloys of copper, Nickel, brass, bronze with silver-plated ceramics and soldering and tinning of silver-plated items and jewelry. This alloy is often used by Amateur radio operators for tin plating of copper surfaces etched Board in boiling water are added 2−3 pellets of the alloy, and after citric acid. Then dipped into a bowl of the Board and pressed against the copper face to the bottom of the stick. Finished Board is removed and cleaned with a cloth.
Transport and storage
Alloy rose is stored, usually in tightly Packed containers or in indoor warehouses and outdoor, for three years. Getting on the skin, this alloy can cause allergies or intoxication, because it contains heavy metals. It is transported by any means of transport.
Buy at best price
Large range of fusible alloys in stock LLC «AVEK global» can satisfy any consumer. The quality of the finished product is ensured absolute compliance with all technological norms of production. The order execution time is the shortest. If you have any questions, you will receive detailed advice from experienced managers. In the implementation of wholesale orders the company provides flexible system of discounts.