Copper tape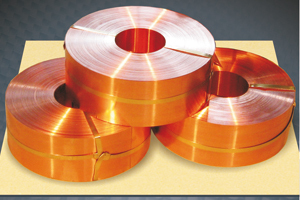 Advantages
Copper tape is resistant to atmospheric and soil moisture. In addition, it has high electrical and thermal conductivity. Despite its small price, the copper tape has a lot of positive properties. These include its plasticity, the availability of any welding and soldering, performance at high temperatures. It can easily bend, bore, cut. The wide use of copper tape is due to its aesthetic appearance, practicality, ease of installation, long service life, harmlessness. Copper scrap is reused after recycling. A few drawbacks of copper are that when compared with other metals, for example steel, it loses strength.
Production
All copper tapes are made according to the following GOST: 20707−80, 1173−93 with the chemical composition corresponding to GOST 859−2001 from copper grades M1, M2, M3. The selection and preparation of samples for the control of the chemical composition is standardized in GOST 24231−80. The finished copper tape is smoothly cut off with a clean, smooth surface without burrs, without the hem of the edge and is presented in the form of a rectangular shape. To make the tape more durable, it is subjected to heat treatment. After annealing, copper improves plasticity, machinability of material by cutting. The necessary hardness is given to it due to cold deformation. After quenching, it is important that the traces of the burn are not backward. Copper bands are tested after heat treatment. The marking indicates the purity of the alloy and the percentage of various impurities.
Classification
According to their purpose, copper tapes vary from radiator belts that correspond to GOST 20707−80 to general purpose tapes conforming to GOST 1173−93. All of them have a standard quality of surface finish and standard accuracy and strength of the product. The copper tape is divided according to the state of the material onto the soft tape M1 and onto the solid, semi-solid tape of the brands M1f, M2p. An example of a designation can serve: a copper tape DPRNT 0,65 x 40 ND M1 GOST 1173−93. This means that the tape is solid, of normal accuracy, a thickness of 0.65 mm, a width of 40 mm, grade M1.
Application
Copper strip is used for the production of transformers, radiators, roofing materials, power capacitors, climatic equipment and also various decorative products. In addition, it is often used in the field of engineering, construction, electrical engineering, etc. The most widely used roofing tape is due to its mechanical and anti-corrosion properties. Such roofing brands as M1p, M1f, M2p can withstand long-term operation under unfavorable conditions, they keep the heat inside the house well, they are easily processed. Therefore, they are used not only in the form of a roof, but for catchment structures and tides.
| unit of measurement | Thickness in millimeters | Price |
| --- | --- | --- |
| Kilogram of M1 copper tape with soft and hard | 0, 05 — 3 | Private negotiation |
| Kilogram of a semi-solid roofing copper tape M1f | 0, 6 | Private negotiation |
| Kilogram copper tape M2 soft and hard | 0.8 — 1 | Private negotiation |
| Kilogram of a semi-solid roofing tape M2p | 0.6 — 0.8 | Private negotiation |
| Kilogram of copper tape M3 solid | 0.09 | Private negotiation |
The brands of ribbons listed in the table are sold both wholesale and retail. Storage, anticorrosion protection, packaging and transportation comply with GOST 9 .510−93.
Chemical composition of copper tape
GOST
Make
TU
Chemical composition
Cutting

1173,

20707

M1, M1p,

M2, M2p, M3,

M3p

48−21−59, 48−0810−189, 48−21−540,
GOST 859
2.0−4.0 x 200−600xl
48−21−5003, 48−21−5055, 48−21−778
Buy at a bargain price
In the warehouse of «Avek Global» LLC there is always a wide range of copper rolled products at the best prices. We offer a choice that will satisfy any, even the most demanding buyer. Contacting our representative office, you can make your order and make a purchase. You can also use the company's website. Quality is guaranteed through strict adherence to technological norms of production. Storage, transportation, packaging and temporary protection against corrosion are carried out in accordance with the provisions of GOST 9 .510−93. Your order will be delivered in the shortest possible time. The price depends on the terms of delivery and the volume of the order. Wholesalers are offered a favorable discount program.