Duralumin pipe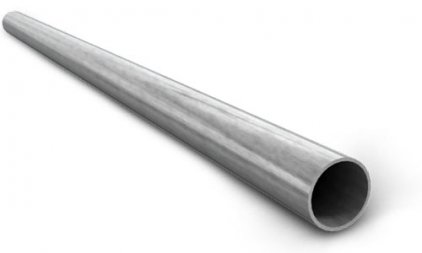 Duralumin appeared at the beginning of the twentieth century. Named after the name of a small industrial German town, where it was first smelted at a metallurgical plant. Alfred Wilm — German engineer-metallurgist opened the possibility of five-fold hardening of aluminum. To do this, he added to it 4% of copper and hardened the resulting alloy with a subsequent 5-day exposure.
Production
Duralube tube looks like a hollow profile of different cross-section. GOST 18482−79, 18475−82, 23697−79 regulate the production of pipes from alloy D16. GOST 4784−97 normalizes the chemical composition. Duralumin pipes are marked as follows. With normal cladding — A, with technological plating — B, unplated pipes — do not have an additional designation. The quality of the finish is standard, the strength and precision of manufacturing is normal. Allocate according to the state of the material: hot-pressed — without additional heat treatment, hardened and naturally aged — T. Products that have been quenched must not have traces of burnt. After the end of heat treatment, the duralumin pipes are tested.
Key Features
D16 Duralumin pipes are highly plastic, weigh a little, are very well machined, easily welded with spot welding. To achieve the corrosion resistance of the material, it is clad with pure aluminum. To increase strength — subjected to heat treatment. A greater hardness of the material is obtained by cold deformation, and plasticity and workability is achieved due to its annealing. If we compare the duralumin pipes with steel, the duralumin is much lighter, lasts longer, and is cheaper.
Application
For reliable lightweight structures, the duralumin pipe is indispensable. When creating food equipment, skeletons of high-speed trains, aircraft, cars, it is very popular. Duralumin pipe is often used for fragments of facades, laying pipelines for special purposes.
Wall thickness in millimeters
Diameter in millimeters
Price per lm
Duralumin pipe D16AT, D16BT
1 to 12
From 6 to 155
Negotiable
Duralumin pipe D16T
1 to 12
From 6 to 155
Negotiable
Duralumin pipe D16
1 to 12
From 6 to 155
Negotiable
Buy at a bargain price
LLC «Avek Global» sells color rolled products on the most favorable terms. In the warehouse there are pipes from deformable duralumin alloys D16CHT, D16BT, D16AT, D16B, D16, D16T, with a wide choice of different diameters and sections. The delivery is carried out in retail or in bulk. Strict adherence to production standards is a guarantee of product quality. GOST 9 .510−93 regulates transportation, packaging, storage, temporary corrosion protection. To receive consultation on any question it is possible at our managers. Exhaustive information and a huge range of products in stock will help you choose the right product. For wholesale customers a flexible system of discounts is provided.