Wire, round, rod Brazhn10-4-4 - CuAl10Ni5Fe4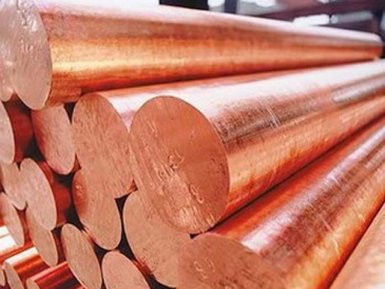 Supplier — AvekGlob Company — offers at a reasonable price from the manufacturer a wire, a circle and a rod of bronze Br AHN10−4-4 (CuAl10Ni5Fe4) in a wide range of diameters and length. The supplier guarantees the timely delivery of products to any address specified by the consumer.
Technical specifications
Bronze Br AKHN10−4-4 (the closest foreign analogue is the alloy CuAl10Ni5Fe4) is a tinless plastically deformable bronze, in which there is an increased percentage of aluminum, nickel and iron. This material is characterized by high enough strength and corrosion resistance. The development of corrosion processes that occur in liquid and gaseous media is hampered by a strong oxide film that forms on the surface of the products during their operation. Bronze grade BR АЖН10−4-4 (CuAl10Ni5Fe4) is characterized by a low coefficient of sliding friction in conditions of excessive lubrication of the contacting parts. Corrosion resistance indicators are fully preserved when the products are used in marine and chlorine-containing water.
Urgency of application
Wire, circle and rod of bronze БР АЖН10−4-4 (CuAl10Ni5Fe4) are used in the manufacture of valve seats, mixing units, plunger tips, steam traps in steam boilers of power plants and water dechlorination plants, movable components of general machine-building designation (shafts, cams, gears, cogs crowns), which function under conditions of high relative pressures and slip velocities. Bronze bronze of the brand BRAZHN 10−4-4 (CuAl10Ni5Fe4) is also produced by propellers of low-tonnage vessels and some types of fasteners.
Chemical composition
According to the technical requirements of GOST 18175−78 bronze grade Br AHHN10−4-4 contains the following elements (data are given in percentages, copper is the rest):
| | | | | | | | | | |
| --- | --- | --- | --- | --- | --- | --- | --- | --- | --- |
| Fe | Si | Mn | Ni | P | Al | Pb | Zn | Sn | Impurities |
| 3.5… 5.5 | Up to 0.1 | Up to 0.3 | 3.5… 5.5 | Up to 0.01 | 9.5… 11 | Until 0.02 | Up to 0.3 | Up to 0.1 | Total — no more than 0.6 |
Physical and mechanical properties
Density, kg / m 3 — 7510;
Melting point, 0 С — 1086;
Specific heat at room temperature, J / kggrad — 466;
Coefficient of thermal conductivity at room temperature, W / megade — 80,5;
Coefficient of temperature expansion at room temperature, μm / deg — 17,2;
The limit of temporary resistance, MPa -640;
Yield strength, MPa — 460;
Relative elongation at tension,% — 5;
Hardness according to Brinell, HB, not lower than 221.
Assortment and application features
In accordance with the technical requirements of GOST 1628−78, the bronze rod and the bronze circle Br AHNH-10−4-4 are produced in the range of diameters from 5 to 40 mm, the wire from 0.08 to 12 mm.
This bronze can be forged: the beginning of deformation — at a temperature of 920 0 C, the end — at a temperature not lower than 800 0 C. The alloy can not deform in the cold state. Weldability — satisfactory, limited (only under a layer of flux).
Supplier — AvekGlob Company — offers to purchase bar, wire or a circle made of bronze Br AZHN10−4-4 (CuAl10Ni5Fe4) in a wide range of cross-sections and length. Products can be bought at a price formed on the basis of European and world standards of production. Implementation is possible in bulk and retail, for regular customers, a flexible system of discounts operates.