Stainless steel spring wire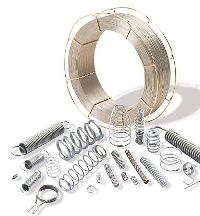 Spring stainless steel wire is lengthy metal product used in the production of various springs. Use the following grades of stainless high-alloy steel: 12X18H10T 10H17N13M3T, 12KH18N9, 10X17H13M2T, 12KH18N9T, 40X13, 20X13, 30X13, 17H18N9, 12H13. Dark or bleached, hard or soft wire will be depends on the steel grade used.
Classification
Method of production:
— cold-drawn;
— heat treated.
According to the method of production:
— TS — bright stainless steel of the following brands: 10H17N13M3T, 08H18N10, 12H18N9, 12H18N10T, 12KH18N9T, 10H17N13M2T, 17H18N9. Is the most popular in their category.
-T — oxidized, made of steel 20X13, 12H13, 40X13, 30X13.
Accuracy of production:
— P — high;
— N — normal.
Plasticity there are 2 classes:
1 and 2 class.
Quality requirements
Regulated by GOST 18143−72, EN 10270−3 and the 3−1002−77. The surface should be smooth, clean, without any shells, bundles, cracks, traces of oil, scale, rust. Spring wire factory made fully compliant with the state standard.
Dignity
A high level of fatigue strength, resistance to corrosion. The springs, manufactured according to GOST 18143−72, used in the production of various types of springs: compression, extension and torsion. Modern high-precision equipment, which is installed in factories, allows to achieve a uniform shape of the springs.
Welding
Usually used for welding cold drawn wire, having a number of advantages, besides low cost. With the help of stainless cold drawn wire is made joining steel in the following grades: 08KH18N10T, 12KH18N9T and 08X18H10. the seam is of impeccable quality.
Scope
Stainless steel spring wire used in the manufacture of springs of different categories, as well as to perform the welding operation. This wire is widely demanded in construction, engineering, manufacturing, medical and household equipment.
Buy at best price
In stock LLC «AVEK global» is a wide range of stainless wire. The quality of the finished product is ensured strict compliance with all technological norms of production. The timing of orders is minimal. If you have any questions, you will receive detailed advice from experienced managers. For wholesale orders the company is practicing flexible system of discounts.