12KH18N10T - 1.4878 pipe, wire, circle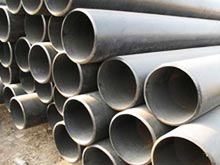 General characteristics
12X18H10T refers to austenitic grade, corrosion-resistant and heat resistant. Steel composition: chrome — 17−19%, Nickel — 9−11%, manganese up to 2%. The purpose of the part operated up to 600 °C; welded vessels and apparatuses, working in dilute solutions of acetic, phosphoric, nitric acids, solutions of salts and alkalis, etc. components and parts that work at temperatures from cryogenic to +600°C under pressure, in aggressive environments. Components and parts of pipelines and main equipment of nuclear boilers with heat transfer fluid of the water type. Pipe and blades, parts in power engineering, operating at temperatures up to +600°C.
The percentage composition of the alloy
| Steel | C | Cr | Fe | Ni | Ti | Mn | P | S | Si | Impurities |
| --- | --- | --- | --- | --- | --- | --- | --- | --- | --- | --- |
| 12KH18N10T | ≤0,12 | 17−18 | DOS. | 9−10 | ≤0,8 | ≤2 | ≤0,03 | ≤0,02 | ≤0,8 | ≤0,15 |
The production process of these pipes belongs to the category of complex technologically. Welding involves the treatment of the surface of the weld, final heat treatment, which imparts resistance to high temperature.
Relevance
Stainless steel tubes contain at least 12% chromium, which gives them resistance to corrosion. Wide popularity and the range of use of stainless steel due to its ease of fabrication and processing, strength and resistance to oxidation. High strength steel can reduce the weight and material consumption. Another advantage of stainless steel is the possibility of melting scrap and its recycling. So this is a fairly inexpensive material, considering the long period of use, as well as consistently excellent remaining properties.
The basic qualities
Heat resistance, durability, strength, resistance to various types of corrosion and effects of aggressive environments and an aesthetically appealing appearance.
Varieties
Stainless steel pipe for the application is divided into several large groups: hygiene, structural, tubes used in boilers and heat exchangers. In the cross section of the pipe is round and profile — square, rectangular, oval cross section. In the construction of the most commonly used is a stainless steel rectangular shaped tube. Round tubes are welded and seamless. Pipe surface can be Matt or polished to a Shine.
Application
To date, stainless steel pipe 12X18H10T is demanded widely in automobile and aircraft construction, for laying gas and oil pipelines, construction works, laying trails of hot and cold water, in the production of sanitary ware and even furniture. The hygienic advantages of such pipe, thanks to a perfectly smooth surface without roughness, have been widely used in pharmacology in the food industry. Due to the high strength of the tube can withstand significant pressure drops and high temperature inevitable in boiler rooms, boilers and in the chemical industry.
Buy at best price
The company «AVEK global» specializiruetsya on the sale of any metal alloys. We offer products from warehouses in Ukraine and in Russia with delivery to any region of the CIS and abroad. All products are certified and available. The price depends on order volume and additional conditions. Deliveries are made promptly. When wholesale purchases are offered preferential discounts.