Wire KHN32T - эп670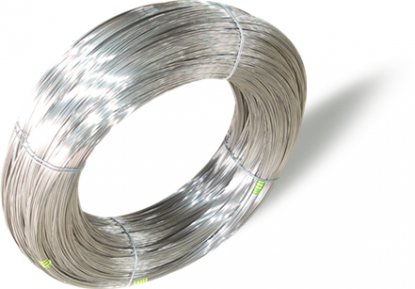 Basic properties
Density = to 8.16 g/cm3, coefficient of linear expansion of 13.7 (1/deg K). Mechanical properties of the wire depend on temperature. The wire has a conductivity in the range of 15.9 to 23.4 W/(m•deg K). This wire, thanks to a good chemical composition has high weldability, which allows the most sophisticated design without special equipment and without additional heat treatment after welding.
Chemical composition KHN32T (in percent).
Cr
Ni
Fe
Ti
Si
Mn
P
Al
With
S
19−22
30−34
41,4−50,75
0.25−0.6
not bol. 0,7
not bol. 0,7
not bol. 0,03
not bol. 0,5
0,005
not bol. 0.02;
Dignity
Wire brand KHN32T operated at temperatures up to 1100ºС in aggressive chemical environments. Due to the high content of Nickel and chromium, parts made from this alloy have excellent corrosion resistance. The surface of the wire is not susceptible to oxidation during long-term operation and high temperature. This wire is plastic, which makes it popular in the manufacture of domestic and industrial appliances. It possesses stability in an oxidizing atmosphere, in the presence of ammonia and nitrogen.
Disadvantages
However, despite its corrosion resistance, the wire is embrittled KHN32T in the atmosphere of sulfur compounds and sulfur. Due to its composition of expensive chromium, Nickel and titanium wire has a high price, but are more reliable. the high cost kompensiruet durability and strength.
Use
Wire brand KHN32T is in great demand in the electric furnace heaters for almost all areas of industry: furnaces drying and calcination, electric furnaces, heating effect, household appliances. Wire brand KHN32T used in the rheostat and resistor elements, as well as in the production of vacuum devices, soldering irons, tiles of high reliability. It can also be used as a cutting and a heating element in thermal packaging knives, industrial and domestic with hot-air heating and water heating systems. In the production of coils length of wire is determined based on the required power. Due to the heat resistance wire KHN32T, it is widely used in corrosive environments as a chemically resistant alloy. The most widespread use of wire KHN32T finds in petrochemical engineering.
Buy at best price
LLC «AVEK global» sells products made of heat-resistant chromium-Nickel alloys at the best price. It is formed under the influence of world prices for metal without the inclusion of additional costs. Wire KHN32T belongs to the popular group of steel products due to its real value and variety. The face of our company determines the high level of service and excellent quality products. On the website LLC «AVEK global» reflects the most current information. Our managers are always happy to help answer questions. Implementation of orders takes minimal time. For wholesale buyers there is a reduced discount. Deliveries go directly from the warehouse. It gives consumers a clear choice of product and significant savings on inventory and facilities.