Wire, round, rod, Copper Chromium Zirconium 2.1293 - CuCrZr - C18150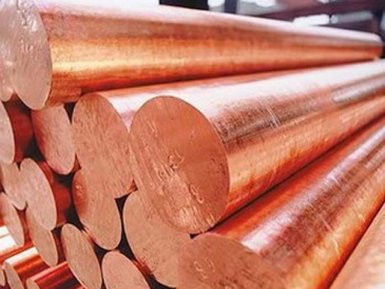 Supplier — AvekGlob Company — offers at a reasonable price from the manufacturer a wire, a circle, bars, which are made of the alloy CuCrZr (C18150, 2.1293). The supplier guarantees the timely delivery of products to any address specified by the consumer.
Technical specifications
The alloy of copper with chromium and zirconium of the brand CuCrZr (other names — C18150, 2.1293) is an alloy with high electrical conductivity, hardness and ductility, moderate strength and excellent resistance to softening at elevated temperatures. The addition of 0.1% zirconium and 1.0% chromium to copper allows the alloy to be efficiently heat treated, after which the material can be plastic deformed to the desired degree of hardening.
The heating temperature of the alloy CuCrZr (C18150, 2.1293) usually exceeds 500 ° C. There is evidence that the use of this alloy contributes to a decrease in the friction coefficient of sliding in mechanical systems.
Urgency of application
Typical use of copper alloy with chromium and zirconium grade CuCrZr (C18150, 2.1293): electrotechnical industry (welding electrodes of machines for resistance welding, switches), consumer goods (rod extensions, mechanical pencil cases, light soldering tools), general metalworking (welding disks, tips and extensions for joints and spot welding).
Chemical composition
In addition to copper, the composition of the alloy in question includes zirconium (0.05… 0.25%), chromium (0.5… 1.5%), titanium (no more than 0.3%). In the composition of copper, traces of silver are allowed.
Physical and mechanical properties
Density, kg / m 3 — 8890;
Melting point, 0 С — 1070… 1080;
Modulus of elasticity, GPa — 125;
Coefficient of thermal conductivity at room temperature, W / mgrad — 310… 340;
Specific heat capacity, J / kggrad — 370;
Coefficient of thermal expansion at room temperatures, μm / deg — 9,5;
The limit of temporary resistance, MPa — 550;
Yield strength, MPa — 310;
Relative elongation at tension,% — 13… 20;
Rockwell hardness (scale B), no more than 82.
Assortment and application features
Alloy copper with chromium and zirconium grade CuCrZr (C18150, 2.1293) is available in a wide range of profiles and section sizes. Mechanical machinability of the alloy is poor. The temperature range of forging is 800… 890 0 С.
Supplier — AvekGlob Company — offers to purchase wire, circle or rod made of copper alloy with chromium and zirconium of CuCrZr brand (C18150, 2.1293). Products can be bought at a price formed on the basis of European and world standards of production. Implementation is possible in bulk and retail, for regular customers, a flexible system of discounts operates.