Wire, round, rod, Tellurium Copper 2.1546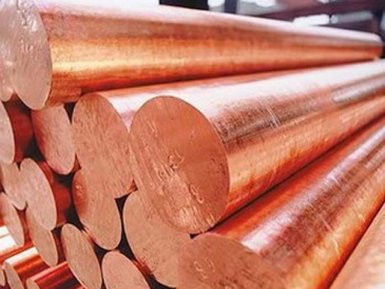 Technical specifications

The alloying of copper with tellurium makes the alloy resistant to hydrogen embrittlement, and excellent conductivity makes such an alloy a good choice for the electrical industry, especially in those where parts require considerable processing. Adding tellurium to copper facilitates processing and allows the cutting speed to be five times that of pure copper, with significantly less tool wear. In addition, electrical conductivity, thermal conductivity and ductility vary slightly from pure copper.
Physical properties (temperature 20 ° C)

Electrical conductivity: 90% IACS
Thermal conductivity: 205 BTU / ft2 / ft / hr / oF
Treatment
Softening point: about 350 ° C
Hot working: good
Cold working: good
Welding

Recommended gas shielded arc, butt weld: resistance Not recommended oxyacetylene, metal-arc welding.
Assortment
Forgings, products and parts requiring high conductivity, precise machining, corrosion resistance. Connectors and adapters, plugs, intended for all RCA connectors, cables up to 9 mm in diameter.
Application

Typical applications include welding tips, gears, bolts and studs, as well as relay parts.
Buy
Supplier Avlob offers Tellurium Copper 2.1546 — C14500 wire, circle, rod at an economical price. The supplier guarantees the timely delivery of products to any specified address. Regular customers can take advantage of discount discounts. The price is the best in this segment of rental.
Delivery, price

Buy Tellurium Copper 2.1546 — C14500 wire, circle, rod at an affordable price from the supplier Avgob today. The price is formed on the basis of European production standards. Supplier Avlob offers to buy Tellurium Copper 2.1546 — C14500 wire, circle, rod at the optimal price in bulk or at retail.