Molybdenum wire MCH 8 micron - 500 micron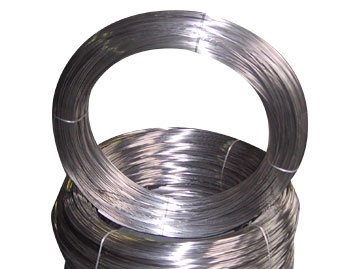 Relevance
Molybdenum wire has a high elastic modulus, low coefficient of thermal expansion, viscosity, hardness, resistance to aggressive environments. These advantages allow to apply it in various fields of modern industry. It has excellent mechanical strength and corrosion resistance. Compared with tungsten — it is half the size, and therefore has a large specific strength (at t° to 1370°C).
Physical quality
The temperature at which the obtained data the features of t°C
20°C
The linear thermal expansion coefficient α [1/°C]
Of 4.9x10-6
Density [g/cm3]
10,2
The melting temperature t°C
2620°C
Specific heat at 20 °C [kJ/(kg·deg)]
0,256
The thermal conductivity K [W/(m·K)]
142
Electrical resistivity R, Mhmm2/m
0,054
Chemical properties
Mo is stable in cold alkali, but hot slowly destroyed. It dissolves hydrochloric, sulfuric acids at 80 °C. Nitric acid, Aqua Regia dissolve it only at 100 °C. the Impurities of carbon, oxygen, silicon, aluminum, nitrogen, iron, sulphur, calcium, phosphorus significantly change its properties. The bulk of these impurities increases the fragility. Most harmful of all impurities is considered to be oxygen. If it is contained in a volume 0,0008−0,004%, the low-melting oxides can lead to a sharp increase in brittleness of the material, hindering plastic deformation, especially in the simultaneous presence of carbon with nitrogen. With increasing percentage of oxygen than 0.015%, the processing pressure because of the fragility becomes impossible.
Disadvantages
Molybdenum refers to rare earth elements, in its purest form is quite difficult to identify, it is refractory and hard to work — all this affects the high cost of the final products.
The production of wire made of molybdenum
| True annealing temperature, ° C | The diameter of molybdenum wire |
| --- | --- |
| 1500−1550 | 200 — 800 µm |
| 1450−1500 | 801 — 1000 µm |
| 1400−1450 | 1001 — 1250 µm |
| 1300−1350 | 1251 — 2500 µm |
MOLYBDENUM WIRE FOR FILAMENT LAMPS GOST 27266−87.
Mark Mo
Application
Group
Type
Precision production
Wire diameter
MRN
The inputs of the core with the helix of molybdenum and its alloys, traverse
And
-
Normal
600−2500
MK
The core for the manufacture of molybdenum monosperma, hooks, supports, etc. parts of lamps
A B
To
Increased, normal
30−2500 15−400
MCH
The inputs, support, cathodes of gas discharge devices, traverses powerful, special incandescent lamps
And
-
Normal
200−2500
Auxiliary spiral
And
Sun
Increased
45−120
Kern spirality for the production of bispira molybdenum
And
KS
Increased
45−300
Quality requirements
Wire, ∅ 0.4 mm is available in black or dark gray, and the wire of larger diameter, usually light gray. In accordance with the technical specifications, not on its surface may be traces of oxidation, grease or other contaminants. The surface must be free of cracks, smooth, and without burrs. Requirements molybdenum wire ∅ 0.5 mm more not so hard, here are allowed burrs, beyond the minimum. In the special tables set forth the rules and tear stretching. Quality wire can withstand spiralization.
| The grade of molybdenum | Ultimate strength, kgf/mm2 | Wire diameter, µm | Group | Conditional tensile strength of the HS/mg/200mm |
| --- | --- | --- | --- | --- |
| MCH-K | 173 163 142 | 15 — 70 71 — 90 91 — 200 | A, B | 85 80 70 |
| MK | 121 | 200 — 500 | And | 60 |
| MCH-KS | 152 142 121 | 45 — 70 71 — 90 91 — 200 | And | 75 70 60 |
Application
Molybdenum wire has outstanding mechanical strength, refractoriness, corrosion resistance. It is resistant to most aggressive environments, and also in solutions of concentrated alkalis and acids — sulphuric, hydrofluoric and hydrochloric. The lifetime of molybdenum wire is significantly higher than the similar products of other metals. She is very reliable, durable, popular in the most difficult conditions of modern production, is widely used in the nuclear power industry, mechanical engineering, industrial chemistry. It is hardly replaceable in the manufacture of resistance elements for heating furnaces, lighting devices that require high heat resistance. Molybdenum piercing mandrels are used for punching stainless steel seamless pipes and for drilling steel. The most popular brand of wire is grade MCH.
The grade of molybdenum
Group
The condition of the wire
Wire diameter
Accuracy class production
The purpose of the wire
MCH
And
Black
20 — 2500 µm
1,2
support, hooks, beams, Plushenko core with the helix
B
Purified
20 — 1000 µm
at the core of helix, hooks of tubes
In
Annealed
details vacuum devices
G
Purified, annealed
at the core of helix, traverse
D
Annealed
1
at the core of helix
MRN
And
Black
600 — 2500 µm
1
In
Annealed
600 — 1000 µm
G
Purified, annealed
D
Annealed
1,2
traverse
MK
And
Black
200 — 2500 µm
1,2
the inputs to junction with metallic ceramics and refractory glass and other high-temperature parts
B
Purified
200 — 1000 µm
In
Annealed
G
Purified, annealed
Buy at best price
In stock LLC «AVEK global» — the widest range of products from rare and refractory metals. We offer wire any parameters at the best prices. Our specialists are ready to answer any questions and to help in the selection of necessary materials, upon request, will provide all the necessary information about the product, cost and delivery time. Rates depend on scope of delivery and additional conditions. For wholesale orders discounts. Buying products of the company «AVEK global», You will find a worthy partner.