SV-08Х20Н9Г6 - 1.4006 - er307 welding wire stainless steel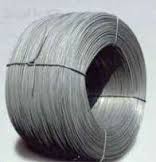 Principal welding wire
AWS A-5.9 ER 307Si
EN 12072 G/W 18 8 Mn
Alloy No: 1.4370
DIN 8556 SG X 15 CrNiMn 18 8
Relevance
Solid wire/rod for welding ER 307 (similar to the domestic wire — SV-08Х20Н9Г7Т) is intended for semi-automatic, argon arc welding, it is difficult to be welded steels and hardfacing, and for welding corrosion-resistant austenitic-manganese steels, with high tensile strength, high carbon steel dissimilar operating at temperatures of -120°C to +300 °C. the Wire is also intended for welding of buffer layers with further solid surfacing wear-resistant layer.
The chemical composition of the wire ER 307 percentages:
| C | Ni | Mn | Si | Cr |
| --- | --- | --- | --- | --- |
| <0,10 | 8,5 | 7 | 0,8 | 18,5 |
The technology of manufacturing of welding wire consists of two options: drawing and hot rolling are manufactured in accordance with GOST and technical conditions.
Mechanical properties of the wire ER 307
Limit deviations and wire diameters correspond to the following standards:
Nominal diameter of wire
Limit deviation for wire intended
for the manufacture of electrodes
for welding (surfacing)
4; 5; 6
-0,12
-0,16
2,5; 3,0
-0,09
-0,12
1,2
-
-0,09
1,5
-
-0,09
1,4
1
The mechanical properties of the welding wire ER 307:
| The creep strength | N/mm2 | 400 | Rp |
| --- | --- | --- | --- |
| Tensile strength | N/mm2 | 650 | Rm |
| Toughness | (20°C) | 70 | Av |
| Elongation | % | 35 | A5 |
Rupture strength alloy and high-alloy wire meet the standards.
Wire diameter, mm
Rupture strength of the wire, in MPa (kgf/mm2), designed
for the production of electrodes
surfacing (welding)
2,0
686−980 (70−100)
784−1176 (80−120)
SV. 2,0
637−931 (65−95)
686−1029 (70−105)
0,8−1,5
-
882−1323 (90−135)
1,6
686−980 (70−100)
882−1274 (90−130)
Packaging, dimensions
| Packaging | Diameter, mm | Article |
| --- | --- | --- |
| 250kg Accutrak drum | 1,0 | 581959 |
| 15kg spool BS300 | 0,8 | 21501214 |
| 15kg spool BS300 | 1,0 | 581904 |
| 15kg spool BS300 | 1,6 | 581942 |
Supply
Implemented welding wire in plastic spools D-300 in the form of coils or rods. Each rod has marked, Packed in plastic canisters, which weigh 5 kg. Each of these weighs about 15 pounds. The surface of the welding wire must be absolutely clean and must not have scale, rust, oil and other contaminants. There are two types of wire subdivided according to the type of surface — nemudrenye and copper-plated. The presence on the surface of copper greatly reduces corrosion of the wire, improving electrical contact.
Application
Without such welding wire is difficult to do in most areas of human activity. Corrosion-resistant chromium-Nickel welding wire ER 307 is designed to austenitic stainless steels. Used for semi-automatic welding. The welding wire in the weld pool is carried out automatically in the welding machine. There are three types of semi-automatic welding: one-piece, with a separate mechanism, the feed wire and two blocks, which serves the wire. The composition of the welding wire ER 307 in percentage is: Nickel — 8%, molybdenum — 3% chromium — 18% and other. This wire is alloyed with molybdenum, silicon, which eliminates all crystalline corrosion and provides high quality of weld seam. It is indispensable in chemical, oil industry, machine building and food industry. Stainless welding wire is most often used for welding stainless steel. In this case, it is possible to use simple electrodes of carbon (black) metal, which leads to a significant reduction in the quality of the weld seam.
Manufacturer
Stainless steel welding wire produced from high-alloy heat-resistant steel, which has the ability to withstand various aggressive environments, high resistance before the corrosion and most other mechanical influences. From precision manufacturing depends, what exactly is the material — increased or normal. Physical characteristics of the wire ductility is divided into first and second class. Depending on the method of processing the wire is divided into bright and blue. The first method is more common. If damaged wire is not recommended its use, since this can considerably lower the quality of the weld seam. Hardfacing process is an integral part of any steel production. They incorporate a variety of metal. Stainless steel welding wire can be used in the form of material for the production of electrodes as consumable electrode or source of metal for the weld seam. The materials used in the welding process, are divided on the isolation, modification and some other properties.
Buy at best price
The company «AVEK global» supplies welding wire ER 307 wholesale and retail. The popularity of this type of welding wire due to high quality products and real value. Any of our manufactured products undergo during manufacture, strict control throughout the production chain, to guarantee absolute high quality of our products. Modern technological possibilities allow you to make individual orders in the absence of the required items in the basic version. The company «AVEK global» is always ready to produce quality products according to individual order.