Sheet, strip stainless spring 07KH16N6 - 1.4310 - aisi 301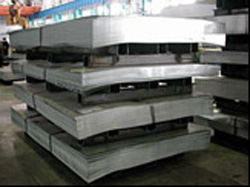 Steel 07KH16N6-sh (ЭП288-sh) is a popular brand among stainless steel. Refers to high-alloy steel. Widely used in mechanical engineering. Balanced composition contribute to the physical and chemical characteristics. Steel 07KH16N6-W contains chromium in the amount of 15.5% to 17.5%, Nickel 5−8% and additives silicon, manganese. Recommended temperature of quenching of the alloy in air or in water not higher than 1200 °C. the Temperature of raskopki began at the beginning of 1150 — 1180 °C, and at the end of — 850 °C. the Rod is quenched at a temperature of 1050−1150°C in air. This alloy is easily weldable any type. For manual electric arc welding used electrodes OzL-35, OzL-25.
The percentage composition of (GOST 5632−72)
| Mark | Cr | C | Mn | S | P | Ni | Si | Fe |
| --- | --- | --- | --- | --- | --- | --- | --- | --- |
| 07KH16N6 | 15,5−17,5 | 0,05−0,09 | ≤0,8 | ≤0,02 | ≤0,035 | 5−8 | ≤0,6 | Basis |
Production
Sheet 07KH16N6-W is made according to the requirements of GOST 24982−81, which apply to hot-rolled and cold-rolled steel heat-resistant alloys iron-based, Sheet steel of a steel has a thickness of over 1 mm. Sheet and strip stamps 07KH16N6-sh are sorted according to type of edge, flatness, precision rolling. Flatness is a special, superior, normal and high. Accuracy — high and normal. Edge — edged and not edged.
Application
In heavy engineering, construction, medical and chemical industry, in the production of Cutlery and tableware. Products of high-temperature alloys are especially needed in such industrial areas where materials with high resistance to thermal overload, for example, in the construction of turbines, motors, combustion chambers, heating units, various furnaces. Heat resistant steel sheet 07KH16N6-sh produces designs and components for space and missile defense. Alloying of the alloy allows the products to withstand high temperature (1000°C) and not lose their high resistance to corrosive and acidic environments.
Buy at best price
The company «AVEK global» sells heat-resistant Slavina favorable terms. Price due to the technological features of production without the inclusion of additional costs. The warehouse contains the widest choice of products for large-scale production. We offer attractive terms and conditions for retail customers. On the website of the company displayed all the information about the products, have product catalog and price lists. Find us easily on the Internet at avglob.org. Waiting for your orders.